GLOBAL BEAUTY BRAND FOUNDER & MUM OF 2, STACEY HOLLANDS WINS THE AUSMUMPRENEUR AWARDS 2 YEARS IN A ROW!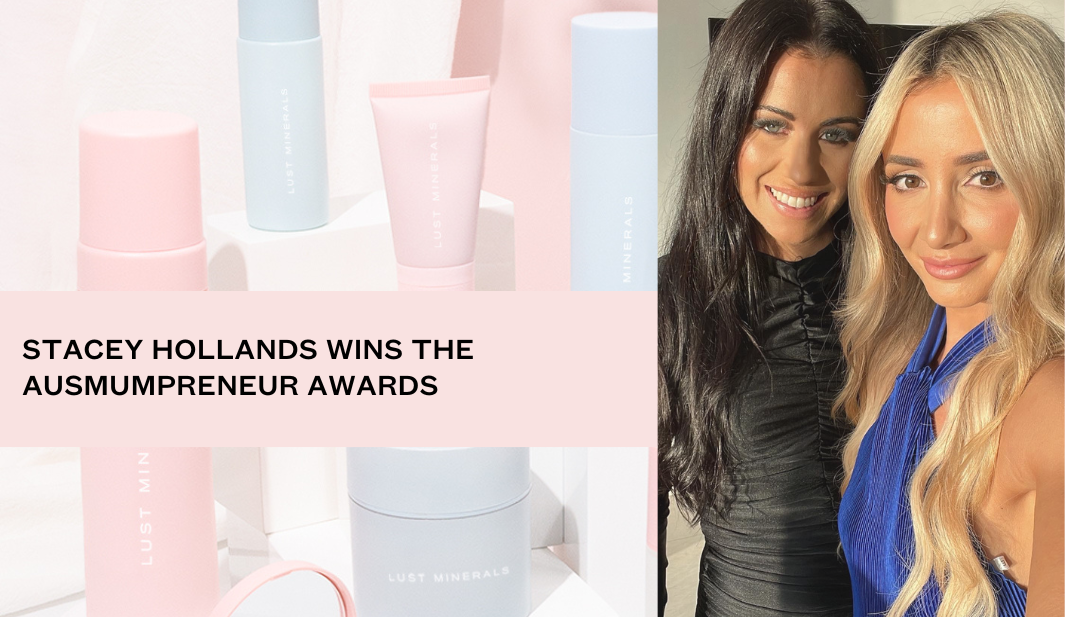 "Empowered Women, Empower Women" 
- Stacey Hollands, Lust Minerals CEO & Founder
Lust Minerals CEO & Founder, Stacey Hollands has been empowering women all over the world for over 7 years since starting Lust Minerals in 2014. Her mission from the beginning has always been to empower, educate, and inspire women to become the best versions of themselves holistically.  Her passion, vision, and mission continuously inspires women to take back control of their health, wellness, and success. 
Aside from her journey with Lust Minerals, Stacey is also a mother to 2 beautiful children, and the way she manages to juggle her business and her family life is a true testimonial to the incredible 'Mumpreneur she is. 
The Ausmumpreneur community is designed to celebrate Mum's in business, acknowledging success in business, product development, innovation and customer service. 
You may have read of our previous post that our beloved founder & CEO Stacey was nominated in 6 categories, namely: 
Ausmumpreneur of the year 
Business Excellence Award
Global Brand Award
Retail E-commerce
Product Innovation Award
Hair & Beauty Business Award
And just recently, Ausmumpreneur has announced the awardees in these categories. 
Guess what…
Our CEO & Founder, Stacey has brought home not just one, but 4 awards! 
1st in Hair, Beauty, and Skincare
2nd in Product Innovation
3rd in Business Excellence Award
3rd in Ausmumpreneur of the year Award
She is truly an inspiration to women to dream, manifest, and achieve the life you truly want to live. 
"I am a visionary and I gravitate to manifesting my life to where it is today." -Stacey.
We all know that entrepreneurship is not easy, but her passion and grit show that everything is possible when you set your heart into it.  
"I am so passionate about helping women all over the world and truly educating them to be the best version of themselves. . .I love to give and I love to inspire, this is my absolute calling." - Stacey Hollands 
For Stacey, it is not just about winning awards, it's more of growing as an individual and in business as she builds an empowered community with her.
Join her and other empowered women in our community as we continuously inspire and build each other up. 
Follow Stacey on Instagram - @stacehollands