Father's Day Gift Ideas: For the Dapper Dads - Timeless Elegance and Care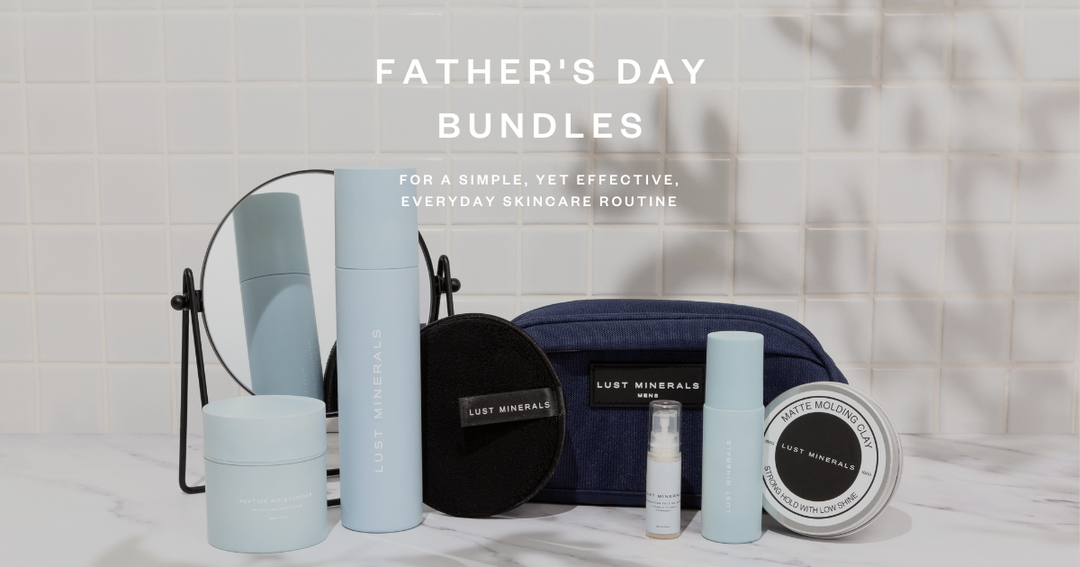 This Father's Day, let's celebrate the dapper dads who effortlessly blend style and sophistication. They are the ones who exude timeless elegance and know the importance of a well-groomed appearance. Whether they've been a skincare user for years or you've never had a skincare routine before, our Fathers Day bundles are designed to cater to every type of dad. Our goal is to help every dad embark on a journey towards healthier, more radiant skin, no matter where they are starting from. We've carefully curated these bundles with everything he needs for the ultimate skincare routine.⁠
For Him - Ultimate Bundle: Our Ultimate Bundle is the perfect balance of luxury and practicality, designed to cater to your dad's grooming needs. It includes everything your dad needs for the ultimate skincare routine, saving you $43 on these high-quality products. The bundle includes a cleanser, moisturiser, AHA Exfoliating Solution, Hyaluronic Acid Serum, Men's Travel Case, and a Reusable Face Pad. These products are thoughtfully curated to provide the perfect balance between effective skincare and a touch of indulgence.
For Him - Men's Essential Bundle: If your dapper dad prefers a more streamlined approach, our For Him- Men's Essential Bundle is the ideal choice. This bundle combines functionality with sophistication, offering a cleanser, moisturiser, Hyaluronic Acid Serum, a sample of our Rejuvenation Oil, Reusable Face Pad, Matte Moulding Styling Clay, and a Men's Travel Case. This exclusive bundle saves $70 and ensures that your dad's grooming needs are well taken care of.
Appreciation for All Fathers
To all the Dads, the ones who are trying, stepping in, yet to be, those who are with us, and those who are not, we wish you Happy Father's Day. Your love and care make a world of difference, and we salute you for the unwavering support and dedication you provide to your loved ones.
Shipping cut off date
Don't miss the opportunity to surprise your dapper dad with these skincare bundles. Ensure your gift arrives on time by placing your order before the 24th of August. These bundles are the perfect way to show your appreciation for your father's elegance and style.
Ready to make your dapper dad's day? Head over to our website to explore the For Him - skincare bundles and select the one that best suits your dad's preferences. Treat him to the gift of timeless elegance and care this Father's Day.
Follow more of Stacey's journey via her Instagram - follow here
To stay up to date with Lust Minerals - follow here