FAQs: How to Change Your Order Details and Add Discounted Samples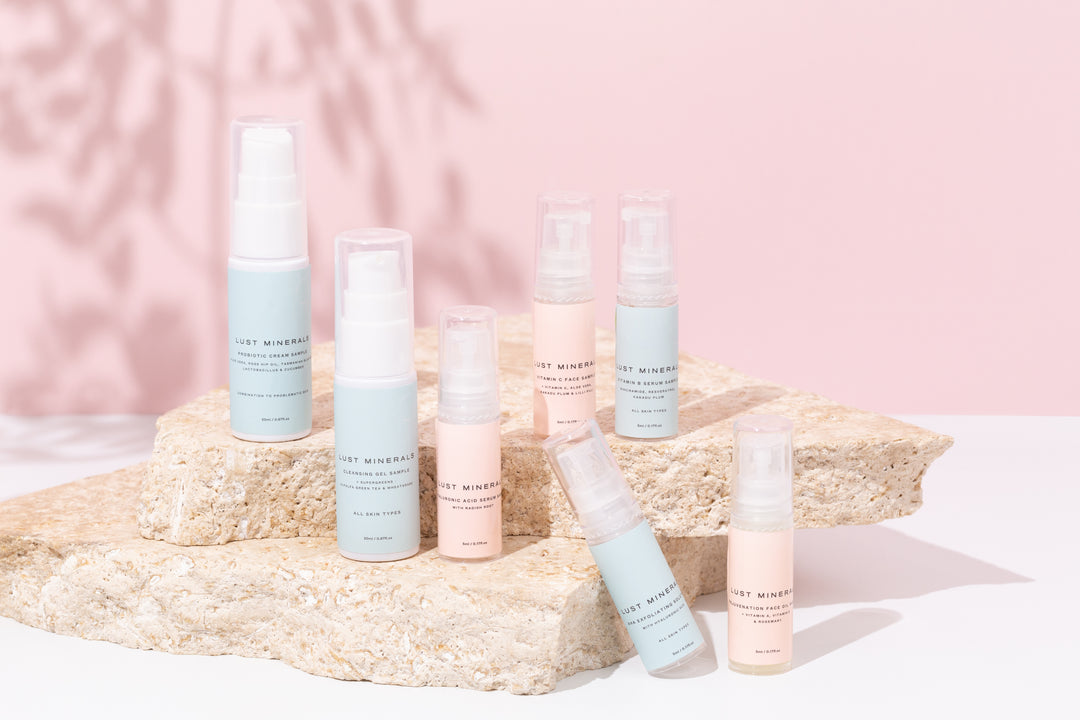 At Lust Minerals, we are committed to ensuring that our customers are satisfied with their purchase.  That's why we've put together this helpful guide to answer any questions you may have about editing your order, changing your delivery address, and adding samples to your purchase to make your shopping experience as easy and stress-free as possible.
Q: Can I change my shade?
A: This would depend on the status of your order.
Our warehouse team works fast to process orders, so depending on the status of your order, we may be able to make the change right away. You can check our delivery timeframe here.
If your order is not yet processed…
Please send an urgent email to support@lustminerals.com.au with your order number and the product and shade you would like to change. Our team will update your order for you as soon as possible.
If the order has already been processed…
Please keep your products unopened and unused and in good condition upon arrival and we can organise. an exchange for you. Please ensure the products are returned to our head office within 10 business days so we can approve your exchange. 
Q: Can I please change the delivery address?
A: Yes, of course, as long as the order hasn't been processed by our Warehouse. 
We urge you to please triple check your shipping details at the point of check out to ensure all your details are correct before finalising your order. Our team has a quick turnaround time as we want to get your goodies to you as soon as possible, and sometimes we are unable to update this if your order has already been processed.
If you've noticed you've inputted the wrong address..
Please urgently send through your correct delivery address and order number to support@lustminerals.com.au and we will do our best to action the requested address change. Please ensure the subject line is "address change" so our team can prioritise your request and have this changed. In some cases we can update the address however if the team has already printed your label there is a 15 minute window and if in some cases we may miss this. This means we can assume we have updated your address but in fact it may not have successfully been processed through to the Warehouse Team. We can not make any promises however we will always ensure we try our very best to do so. 
Tips to ensure that your order will be delivered to the correct address:
Please keep an eye on your tracking to ensure the parcel is going to the correct address. If you note the address change wasn't successful, you can request a delivery address transfer if need be via the link in your confirmation tracking email. 
Q: How do I add the $3 samples to my order?
A: You can add the discounted samples in 3 simple steps.
We understand that finding the perfect shade can be a challenge, which is why we offer $3 samples of all of our foundation shades. Adding samples to your order is a great way to try new products and find your perfect match before opening your full-size product. Plus, it's super easy to do!
To add samples to your order, simply follow these simple steps:
   

Start by adding your desired full-size foundation items to your cart.

   

Next, a helpful pop-up tab will appear on the right-hand side of the website, giving you the option to select the $3 corresponding sample.

   

Once you've selected your desired sample, click 'ADD' on the top right of the pop-up tab to add it to your cart.
With just a few clicks, you'll be able to try our new products and find your perfect shade with ease. If you have any questions or need any assistance, please don't hesitate to reach out to our customer support team. We're here to help and make your shopping experience as smooth as possible.
Please note we have a maximum number of 2 x discount samples to be added to your cart and these must be purchased with a full size item to qualify. 
We suggest you trial your sample size foundation first and if your shade isn't perfect, please return your full size unused and unopened foundation for a more suitable shade within 10 business days. We will send the correct shades straight back to you at no cost. It's simple and it's easy. 
We hope that this guide was able to support you.  If you have any further questions or concerns, please don't hesitate to reach out to our customer support team.
We're here to help make sure that you're completely satisfied with your Lust Minerals purchase. 
Thank you for choosing Lust Minerals, we're excited for you to receive your clean beauty essentials! 
Your journey to clear, healthy skin starts here. Shop Lust Minerals Skincare today. Be sure to follow us on Instagram so you don't miss out on all things clean beauty!
Want to join the clean beauty club? Click here to join our clean beauty community today. 
Learn more about your skin with a skin consultation! Click here to speak with one of our skin experts today.
Unsure which shade to choose, reach out to our professional customer support team today and they can support you. support@lustminerals.com.au 
Stay in touch with us 💛
Instagram: @lust__minerals 
Website: https://lustminerals.com.au/
CEO & Founder Stacey Hollands: @stacehollands