Your Guide to Afterpay Day Sale with Lust Minerals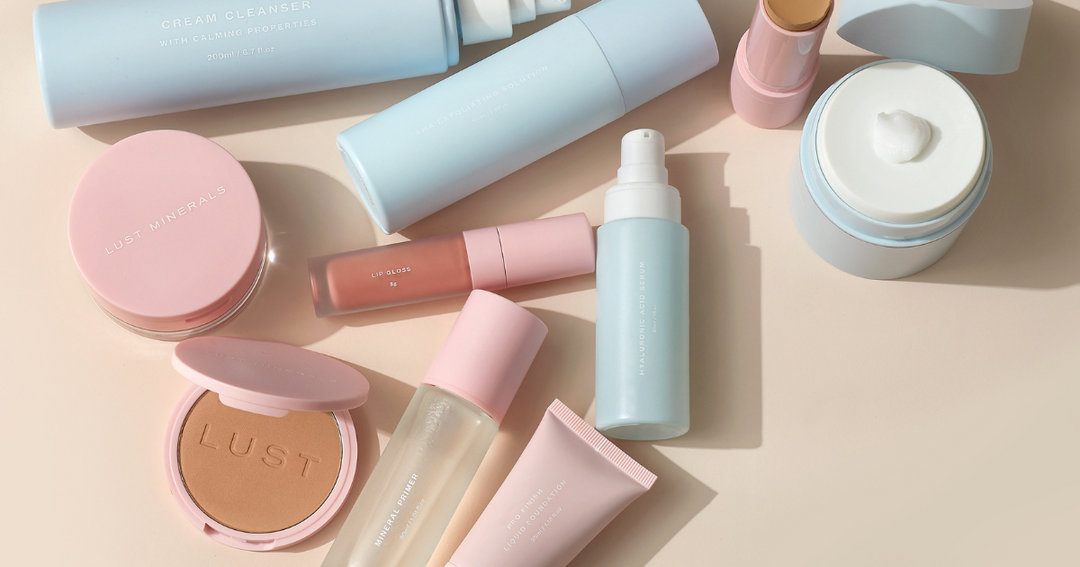 A biannual fixture on the eCommerce calendar - Afterpay Day has rolled around once again and the hype has begun! Lust Minerals has of course got our girls (and guys) covered with discounts across all our favourite products.
This Afterpay Day, we have curated a selection of our best selling bundles to satisfy your skincare and makeup cravings. Our focus is on bringing you the best of the best. Think high quality, clean products, at a reasonable cost. Lust Minerals ensures you are getting the self care love you deserve. 
Glazed donut or golden goddess? Why not both!
Let's take a look into some of our top picks that will elevate your beauty regime. 
The Basics Skincare Bundle: Your Path to Radiant Skin
Was $307, now only $139 - this bundle is designed to be your ultimate skincare companion, offering everything you need for a healthy, glowing complexion. Choose between our Gel  or Cream  Cleanser for a tailored cleanse for your skin type, pair it with our Peptide or Probiotic  Moisturiser, along with our  AHA Exfoliating Solution. Adding our AHA Exfoliating Solution into your basic skincare routine can bring about a range of benefits that contribute to healthier, more radiant skin. The potent formula actively decongests your pores, sloughing away dead skin cells to reveal a revitalised complexion underneath.  To complement this iconic trio, we're throwing in a free facial massager valued at $150! The Basics Skincare Bundle is your holy grail for achieving radiant skin. 
Perfect Match Pack: Elevate Your Makeup Game
Was $184, now only $115 - if you're looking to up your makeup game, the Perfect Match Pack is your best friend. Lust Minerals makeup range is long-wearing, full-coverage, and breathable. The best part? We've simplified the process. Say goodbye to the hassle of buying sample packs, only to splurge on full size products weeks later. 
Our Perfect Match Pack simply allows you to find your shade using our online colour matching service, place your order and test your new shades with sample size products. If you found the perfect shade, open your full size products and enjoy! If the shades aren't quite right, don't stress! We offer an easy exchange of unused full-sized products so you can find your perfect match, free of charge. 
The Clean Skin Edit: Clean, Confident & Clear Skin
Was $112.00, now only $70.00 - a limited edition collection curated to celebrate the launch of our new products! The edit includes our newly released Rejuvenation Eye Cream & Clear + Glow Sheet Mask. These are our 2 most highly requested products and are guaranteed to help you achieve clean, confident, and clear skin. We all deserve an at-home spa experience, so we completed this bundle with 2 additional self care staples. A gorgeous matching blue beauty headband to ensure no bangs are interrupting your skincare, and a delicate gua sha to massage the excess product from your sheet mask into the skin for more effective results. Experience our The Clean Skin Edit, this is a limited edition offering, and once sold out, it won't make a return. 
Complements from Lust:
In addition to these exciting bundles, we're adding a touch of extra allure to your shopping experience. When you spend $149 or more, you'll receive a complimentary Heatless Hair Curling Set. We also offer free shipping Australia wide on orders over $100. Run, don't walk! Our Heatless Hair Curling Set is limited stock only! 
At  Lust Minerals, we believe in pampering you from head to toe. So treat yourself to those self-care items you've been eyeing off – you deserve it! Indulge in the joy of discovering products that complement your beauty routine while enjoying huge savings. 
Take a moment for yourself, explore our bundles, and bask in the bliss of self-care. 
At Lust Minerals, we don't just create products, we create experiences that uplift and empower. 
Happy shopping lovelies!
Stay up to date with Lust Minerals - follow here.
Shop Lust Minerals - here