Why Every Makeup Kit Needs a Lust Minerals Pressed Bronzer!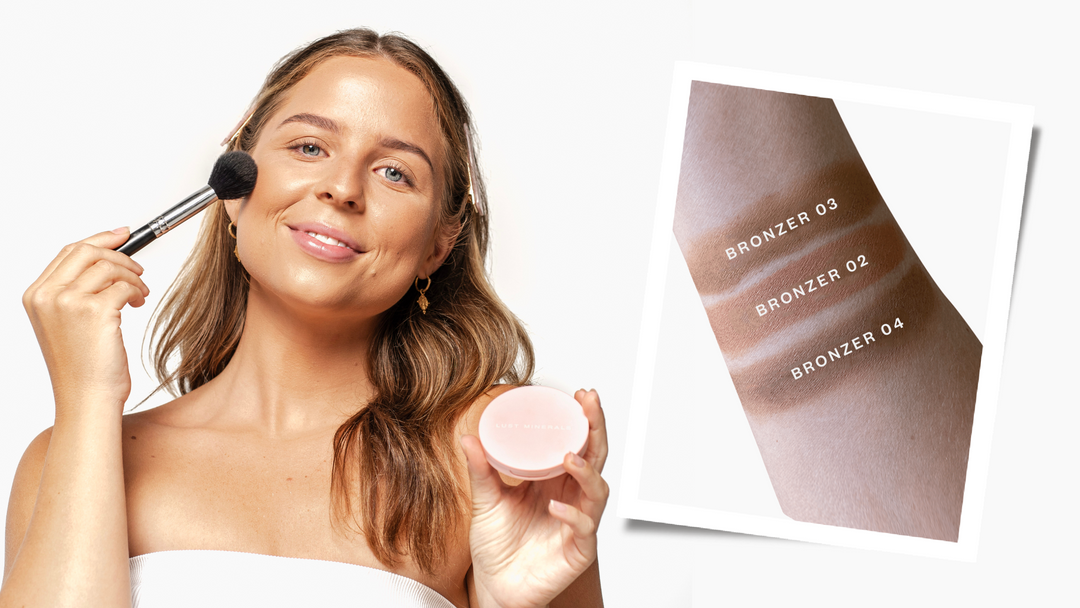 A bronzer is an essential product for any makeup kit. 
Whether you're trying to achieve a more natural look or you're going full glam, a bronzer will transform and elevate the overall finish. Designed to add a warmth glow and dimension to the skin, a bronzer truly ties your base all together for a completed look. 
If you still don't have a bronzer in your kit and you're not convinced that you need one, let us share with you our top reasons below why you should add one to your cart now:
3 Reasons Why You Need a Bronzer
Compliments your features
Bronzer defines your cheekbones. It adds the right amount of warmth, colour, depth, and sometimes sheen (depending on the finish). 
Not sure which bronzer to get? Look no further because The Lust Minerals Pressed Bronzer is a great choice for everyone, even for sensitive skin types! 
The Lust Minerals Pressed Bronzer is mineral based, so it is safe for all skin types and won't cause breakouts. PLUS, it is highly pigmented, so a little goes a long way. 
The key to bronzing? It's finding the right shade for your skin tone and knowing where to apply it.
Bronzer gives your skin a healthy glow, but it's also great for creating definition in certain areas of the face—like the cheekbones, temples, and bridge of your nose. 
When you're applying bronzer, make sure to blend everything together with a soft brush like the Lust Minerals Contour Brush and blend everything in so it looks seamless and doesn't come off as muddy or cakey looking.
What's great about our contour brush is it's shaped for precise application. It is soft and dense so it picks up just the right amount of product without double swirling on the product. 
They are versatile
We are all about quick and easy makeup looks especially when you're on the go. Multipurpose products are great if you're limited for time but still wanting to achieve a flawless, put-together finish. 
Gone are the days of blue eyeshadow - The Lust Minerals Pressed Bronzer is also known for being doubled as an eyeshadow as it adds the perfect bit of warmth to the eye area but still keeps it natural. 
Being Mineral based, you don't have to be cautious of where you apply it as it won't cause those dreaded breakouts. 
Perfect for all occasions
What's great about a bronzer is there's no guesswork required, it really is perfect for all occasions. Whether you're trying to achieve a full glam, or prefer a more natural look this summer, a bronzer can elevate your makeup look in minutes. 
The Lust Minerals Pressed Bronzer comes in 4 shades, so there's definitely a shade for you regardless of your skin tone and finish preference. Whether you prefer a matte finish or you're all about the glow, we can ensure you that we have you covered. 
Caramel (01)   Soft Caramel, more on the Matte side 
Cinnamon (02)  Earthy Amber with a Soft Glow 
Sun Kissed (03)  Golden Bronze with a Soft Gold Fleck 
Macchiato (04)  Deep Roasted Almond- Matte Finish
Not to mention, it's compact and comes with a mirror! It's perfect for those who are always on the go. 
If you want to elevate your sun-kissed glow this summer, then it's time to stock up on Lust Minerals Pressed Bronzer. 
Clean formulation, superior quality and designed to deliver flawless results– who says you can't have it all?
Have you tried it? Let us know and tag us on instagram. We'd love to see you glow!
Your journey to clear, healthy skin starts here. Shop Lust Minerals Skincare today. Be sure to follow us on Instagram so you don't miss out on all things clean beauty!
Want to join the clean beauty club? Click here to join our clean beauty community today. 
Learn more about your skin with a skin consultation! Click here to speak with one of our skin experts today.
Unsure which shade to choose, reach out to our professional customer support team today and they can support you. support@lustminerals.com.au 
Stay in touch with us 💛
Instagram: @lust__minerals 
Website: https://lustminerals.com.au/
CEO & Founder Stacey Hollands: @stacehollands