The secret to achieving a flawless makeup base is hidden in your daily skincare routine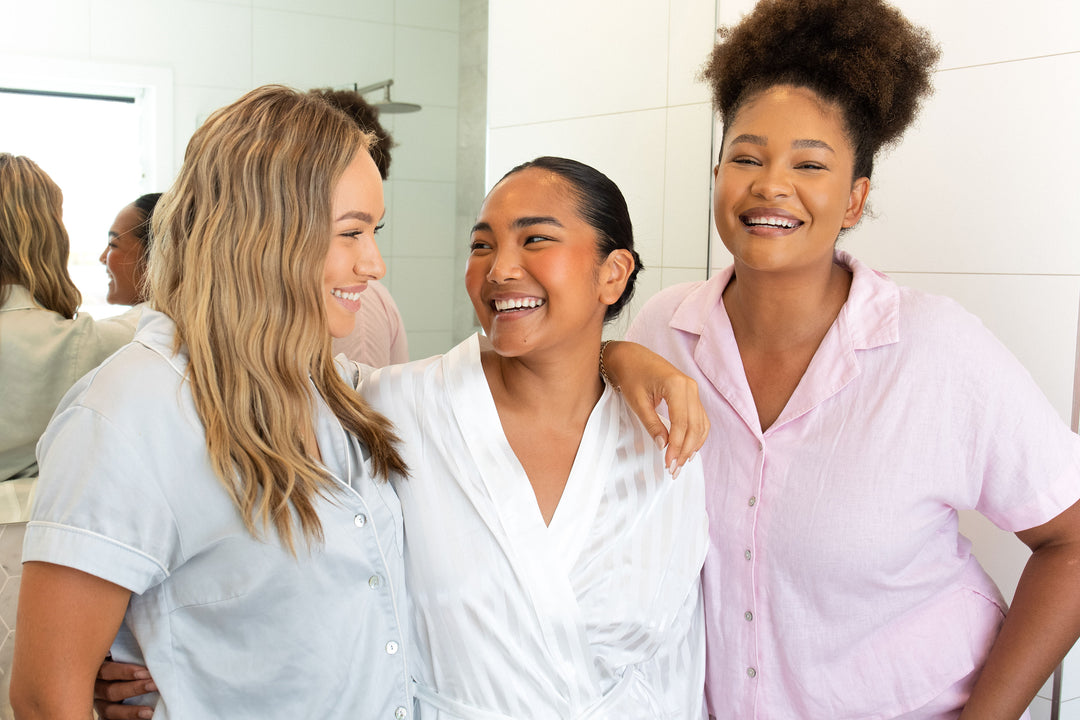 Did you know that your skincare routine plays a huge part in how your makeup looks, sits, and feels on your skin? 
If you want to achieve a flawless base, it's important that you've prepped your skin prior to applying your makeup products, and we're here to tell you why. 
Benefits of Cleansing 
Why is it important to cleanse your skin before makeup application? 
Cleansing will help to remove the skin of any excess oils, dirt, and bacteria that can clog your pores, and lead to breakouts and a duller looking complexion. Removing your skin of these will further help the skincare products that follow to better absorb into your skin, and therefore overall will keep your skin feeling more hydrated and healthy. This in turn will help your makeup to stay in place and to not slide off and go patchy throughout the day. 
Ensuring that you have a gentle and non-irritating, yet effective cleanser to get rid of dirt and grime that is easily accumulated throughout the day without stripping your skin barrier is so important. This is what makes the Lust Minerals Cleansers the perfect choice. 
Lust Minerals Cleansers are vegan, cruelty-free, high performance, and made from all natural ingredients so they are safe and gentle for all skin types. These cleansers deeply, yet gently cleanse your skin whilst nourishing it at the same time. 
We recommend cleansing once in the morning and twice in the evening for maximum results. In order for this process to work effectively use lukewarm water and gently massage your favourite cleanser into your skin before removing. The Lust Minerals Calming Cream Cleanser is soothing and is best suited to those with dry, sensitive or mature skin types, whereas, the Superfood Gel Cleanser is ideal for combination and breakout prone skin. 
Benefits of Exfoliation
Exfoliation is a skincare step that should be incorporated into your skincare routine a minimum of 3 times a week. 
Exfoliating will help to further decongest and break down dead skin to leave you with brighter looking, and smoother feeling skin. It supports your skin's natural regeneration process as it removes the dead skin cells, allowing new, healthier skin cells to rise to the surface. This leaves you with the ultimate, clean canvas to begin your makeup application. 
When choosing an exfoliator, we highly suggest opting for ones with gentle ingredients like AHA known as alpha hydroxy acid as these are natural-derived exfoliants. These are the ingredients that are found in the Lust Minerals AHA Exfoliating Lotion which is incredibly gentle, yet effective for all skin types. 
The Lust Minerals AHA Exfoliating Lotion contains 18% AHA fruit acids + Vitamin B & Hyaluronic acid to assist with skin hydration, reducing fine lines and offering a brighter, blemish-free complexion. 
What we love most about the Lust Minerals AHA Exfoliating Lotion is that it is a multipurpose product that can be used both as an overnight mask or as a daily Serum for optimal results. 
Having a smoother skin surface will drastically help when applying your makeup products, and will allow your products to glide evenly onto the skin. 
Benefits of Moisturising
Did you know that dry skin can lead to flakey makeup? Dry skin is also emphasised when you have makeup on. You may notice your makeup starting to peel off, or crack in certain places if your skin isn't hydrated enough. That's why ensuring you are using a Moisturiser prior to applying your Primer and foundation products is a crucial step. 
The Lust Minerals Probiotic Moisturiser and Peptide Moisturiser will make it easier for your foundation, blush, bronzer, highlighter and contour to spread evenly onto your skin. It will also help keep your skin hydrated so that it doesn't dry out as you wear your makeup throughout the day. Both of the Lust Minerals moisturisers work great for normal skin types, however if you prefer a soothing moisturiser that can help address oily and breakout prone skin, we recommend the Probiotic Moisturiser as it is enriched with Lactobaccilus that helps to rid the bad bacteria that's sitting on the skin's surface. 
To help you achieve a more youthful glow, we recommend the Lust Minerals Peptide Moisturiser. It is infused with Hydrolyzed Rice Protein, Native Snowflower Extract, and Hyaluronic Acid to stimulate collagen production and cell propagation, making it ideal for dry and mature skin types.
Benefits of using a Serum 
Serums are the perfect way to give your skin the nutrients it needs as these are concentrated products. Lust Minerals offers a range of Serums that are highly concentrated, more than most  Serums seen on the market. Being so highly concentrated, this will ensure your skin is getting the most out of the product, and therefore will lead to more visible results. 
No matter what you are looking for in a Serum, we can guarantee we have one for you. Lust Minerals has 4 natural, potent, yet incredibly gentle serums in their range that are formulated right here, in Australia. 
The Lust Minerals Vitamin B Serum is designed to aid in brightening skin tone, promoting skin elasticity and decreasing redness to reveal smooth, calm skin. Containing B3, B5 and Vitamin C, this product is designed to support with slowing down the aging process and improving your skin's overall appearance. 
In addition to our Vitamin B Serum, we also offer a Vitamin C Brightening Serum. This Serum is enriched with ascorbyl palmitate, Australian Kakadu Plum, and Rosehip extract which are some of the worlds highest levels of stable Vitamin C. Designed to offer a brighter skin complexion, and improve your skin's firmness, this is your daily dose of radiance in a bottle. 
For an instant hydration boost and to support your skin with locking in all that incredible moisture, we recommend the Lust Minerals Hyaluronic Acid Serum, which contains 97% Hyaluronic Acid. This is one of the most concentrated Hyaluronic Acid Serums seen on the market. This Serum will not only hydrate your skin, but will support in maximising collagen levels, improving the skin texture and helping to decrease the appearance of dark circles. 
The Lust Minerals Rejuvenation Oil is the perfect product to use to revive and restore the skin's health. It not only hydrates the skin and supports the skin's elasticity, but it also helps to encourage cell production while offering soothing and healing benefits. With its three key ingredients: Rosemary, Vitamin A and Vitamin E, this oil is great for those who experience eczema, dermatitis, and dry skin.
Each Lust Minerals Serum will absorb deeply into the skin, without leaving a greasy feeling. The Lust Minerals Serums will help to improve the overall health of your skin with the amazing benefits they offer, which will in turn support how the makeup applies on your skin, sits on your skin and lasts throughout the day.
Not sure where to start? 
Learn more about your skin with a free skin consultation today! Click here to speak with one of our skin experts today and see the difference your skincare routine can make when it comes to creating a flawless and long lasting, makeup look. 
Your journey to clear, healthy skin starts here. Shop the Lust Minerals range today. Be sure to follow us on Instagram so you don't miss out on all things clean beauty!
Want to join the clean beauty club? Click here to join our clean beauty community today. 
Stay in touch with us 💛
Instagram: @lust__minerals 
Website: https://lustminerals.com.au/
CEO & Founder Stacey Hollands: @stacehollands