The Best Skincare Hacks for Clear & Glowing Skin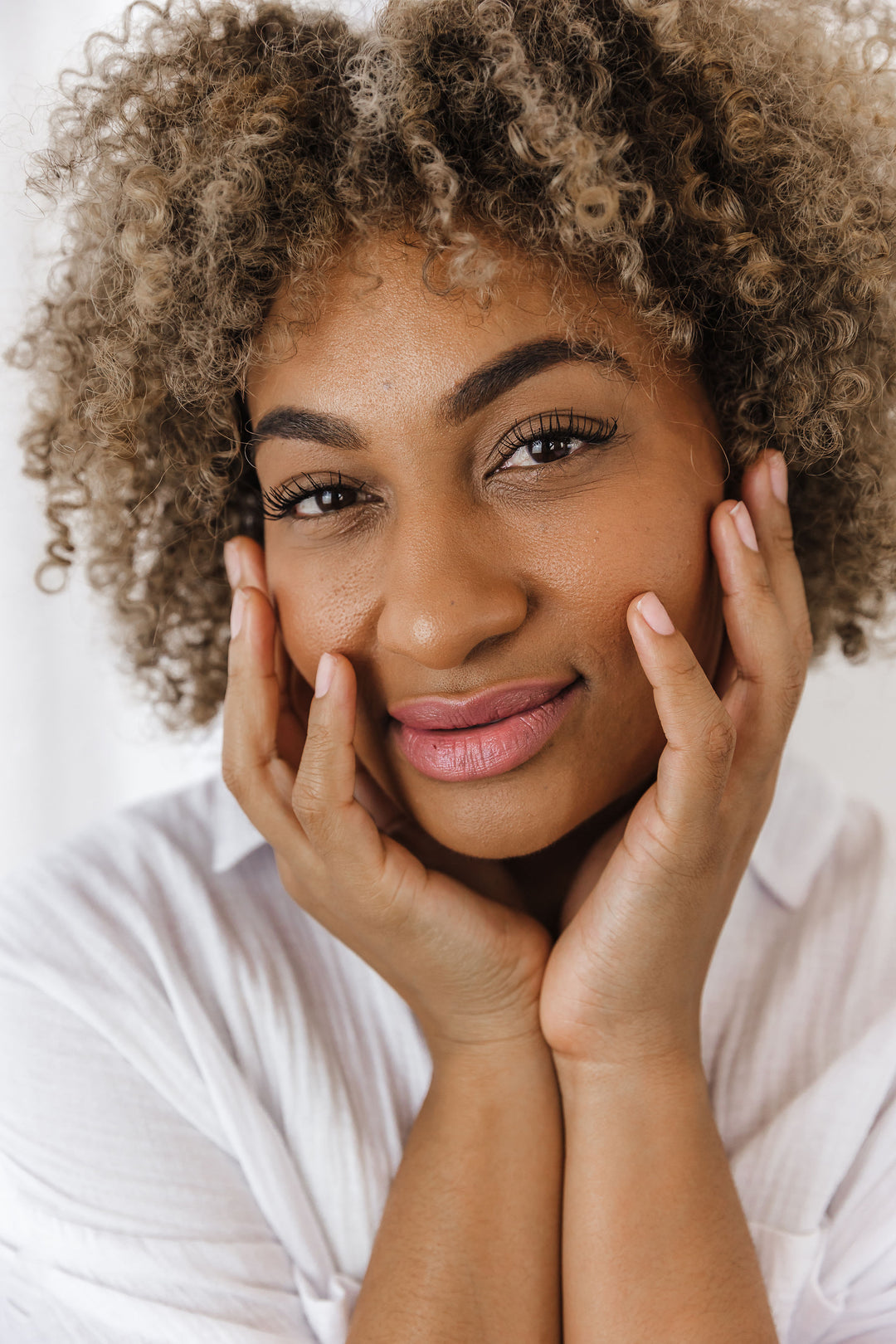 Looking for the best skincare hacks to achieve clear and glowing skin this year? Look no further! We've compiled a list of our favourite skincare hacks that will help you get the radiant skin you've always wanted.
Lust Minerals Skincare Hack #1: Use the Cleansing Face Massager 
With so many skincare hacks over the years, it can be overwhelming to know what really works best for your skin type.
At some point, you might have discovered the skincare device trend that has blown up in recent years.
The one skincare device that we really swear by is the Lust Minerals Cleansing Face Massager.  
This all-in-one power tool will truly bring the spa experience to your fingertips with its cleansing, lifting, and firming benefits. With ultra-soft brush heads, it's suitable even for the most sensitive skin types. 
Check out what our customers have to say about our favourite Cleansing Face Massager.
"This face massager is honestly amazing. I have been using it every 2-3 days and it has made the biggest difference in my skin. It's so much smoother, looks and feels cleaner and it's reduced any pimples I get! If I am getting some it brings them to the surface and then they disappear within a day or two instead of sticking around for a week or longer! Very impressed with how much this has helped" - Verified Customer
For best results, we recommend using the Lust Minerals Superfood Gel Cleanser or Calming Cream Cleanser on your face massager for a relaxing, deep cleansing experience. 
Whether you're looking for ways to reduce your stress or want to remove dead skin cells more effectively, having this Cleansing Face Massager  will help you save time without breaking the bank, especially when you're always on the go.
Did you know that you can also use our Cleansing Face Massager for a lymphatic massage?
Lymphatic massage is a great way to reduce puffiness and inflammation in the face. It involves gentle, slow pumping movements that promote blood flow and helps clear away toxins from beneath the skin's surface. 
To get the most out of a lymphatic massage, try doing one at least once a day, either in the morning or evening. 
Here's a step-by-step guide to using our Cleansing Face Massager for lymphatic massage: 
Step 1: Downward circles from the jawline down the neck.
Step 2: Circle under the front of the chin to the jaw, starting at the center and working your way out.
Step 3: Gently circle outward from the center of the face.
Step 4: Circle along the chin and jawline starting from the center of your chin.
Step 5: Gently circle along the cheeks from the center, working outward.
Step 6: Gently circle the orbital bone, from the center along the bottom and out, then along the top ridge and out.
Step 7: Gently circle along the cheekbones, starting from the center working outward.
Step 8: Finish the circles along the forehead starting in the center and outward on each side of the face.
If you want to rid your skin of dead skin cells, stimulate blood flow and lymphatic drainage while toning your facial muscles, our Cleansing Face Massager is definitely a must-have! 
Lust Minerals Skincare Hack #2: Wash your brushes with a Lust Minerals gentle cleanser
With all the makeup, oil, dirt, and bacteria that can so easily be accumulated in your makeup brushes, it's a no-brainer that if you want to keep your skin healthy and glowing, your brushes need to be too. What is most alarming is a lot of brush cleaning products these days are so heavily chemical based which can not only be damaging to your brushes, but damaging to the health of your skin too. If you are using chemical based products to clean your brushes, this will easily be transferred to your face through residue build up. 
If you are wanting to avoid skin irritation, and keep your brushes in the best possible condition, opt for a natural and gentle based product instead. Did you know that our Superfood Gel Cleanser and Calming Cream Cleanser can also double as an effective brush cleaning product? These cleansers are both formulated with clean,vegan, natural, and high-performing ingredients that will deeply cleanse your brushes without damaging its bristles. 
The results truly speak for themselves. These Cleansers work incredibly deep within the skin to remove bacteria, makeup and excess oils so it's no surprise that it works so incredibly well to remove any product build up from your makeup tools too. Don't just take our word for it - give the Lust Minerals multitasking Superfood Gel Cleanser and Calming Cream Cleanser a try!
Lust Minerals Skincare Hack #3: Never skip sunscreen!
Did you know that 90% of skin aging is caused by environmental factors like UV rays?
This means that premature aging is actually preventable or can be slowed down with the power of sunscreen. 
Good thing, we have the Lust Minerals Clean Tinted Sunscreen+ Hyaluronic Acid- SPF 50. This clean, vegan, and mineral-based sunscreen is infused with Hyaluronic Acid so it offers hydration and nourishment, as well as protection. This zinc based, tinted sunscreen offers a longer lasting protection with its slightly thicker texture, all whilst giving a bit of coverage and leaving the skin with a beautiful glow.  It is also water resistant and safe for your skin, your health, and the environment. 
If you want to boost your skin health, sunscreen is a must even when you're just staying indoors. 
Lust Minerals Skincare Hack #4: Stay hydrated. Drink lots of water
Water intake is important, not just to keep our body functioning properly but also to keep our skin in good health. 
Did you know that 60% of the human body is made up of water? Without enough water, our skin can become dehydrated and prone to breakouts. 
Just by drinking 2-3 litres of water, you can help your body flush down toxins, reduce skin inflammation and dryness, and all whilst improving your skin's elasticity. 
Need an immediate hydration boost to instantly make your skin glowing? You can achieve it with our Hyaluronic Acid Serum . This concentrated serum contains 97% Hyaluronate so it is incredibly potent, yet gentle on the skin.


Tip: It really does go hand in hand - for maximum results with the Serum, ensure you are drinking plenty of water! 
Lust Minerals Skincare Hack #5: Use cleaner alternatives
Switching to cleaner alternatives is possibly the best hack for maintaining healthy, glowing skin inside and out!
Our skin is our largest organ and absorbs almost everything we put onto it. Chemical based products can be so detrimental to not only our skin, but our health especially with continued use. If you aren't currently using clean beauty, we urge you to take a look at the ingredients listed on on the back of your beauty products, and see why these concerns are growing within our community. 
Talc, parabens, thickeners, artificial fragrances, phthalates, SLS - these are just SOME of the many harmful ingredients that can be found in makeup, skincare and body products and that have a huge red flag attached to them. These toxic chemicals have a never-ending list of harmful effects that can be caused to your skin, your health and the overall environment, especially with continued use. 
Aside from not containing any harmful ingredients, the Lust Minerals Clean Beauty Range offers products that aim to solve your skin concerns, and not just work as a cover up. Our products contain only the highest quality ingredients that consist of vitamins and superfoods to really nourish the skin, and give it the love it deserves. With continued use, our aim is to heal your skin concerns through our clean, and high performing range of beauty products. We want to give you confidence without sacrificing your health. 
Your journey to clear, healthy skin starts here. Shop Lust Minerals Skincare today. Be sure to follow us on Instagram so you don't miss out on all things clean beauty!
Want to join the clean beauty club? Click here to join our clean beauty community today. 
Learn more about your skin with a skin consultation! Click here to speak with one of our skin experts today.
Unsure which shade to choose, reach out to our professional customer support team today and they can support you. support@lustminerals.com.au 
Stay in touch with us 💛
Instagram: @lust__minerals 
Website: https://lustminerals.com.au/
CEO & Founder Stacey Hollands:
@
stacehollands