Step into a New Era of Skincare with the Rejuvenation Eye Cream & Clear + Glow Sheet Mask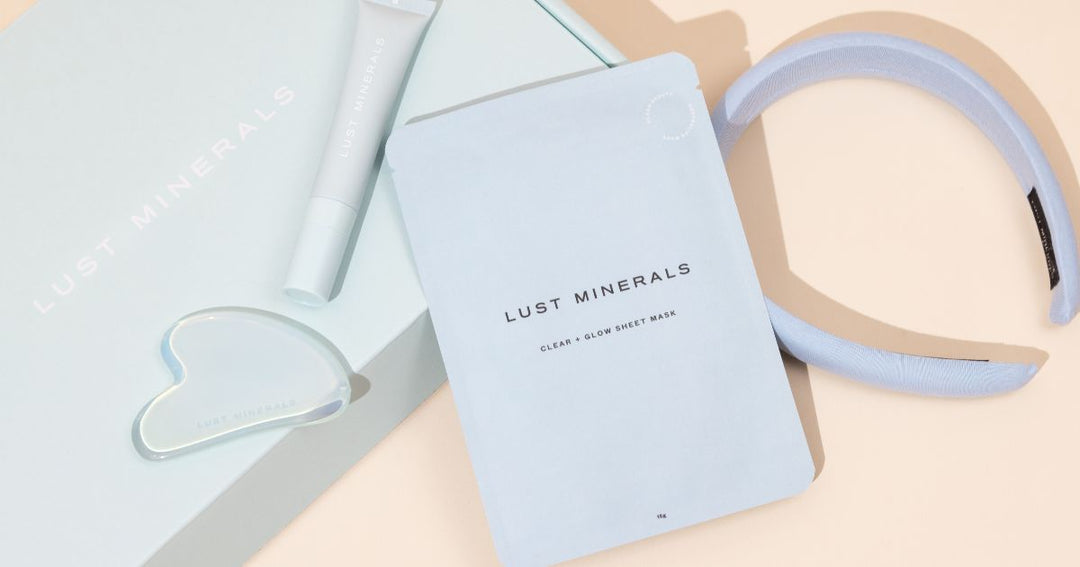 The moment you've been waiting for has arrived! We've been listening to your requests and we're so excited to introduce two brand new skincare products designed just for you. Get ready to elevate your skincare regime. 
The New Era of Skincare
Welcome to a new era of skincare, where our brand-new products seamlessly blend the goodness of natural and clean ingredients with cutting-edge science. Meet the Clear + Glow Sheet Mask and the Rejuvenation Eye Cream – created to enhance your skin's overall appearance without compromising your health. Unlike other choices in the market, this new era of skincare harnesses the potency of patented ingredients, which are ingredients that have incredible, proven studies behind them. 
Our Rejuvenation Eye Cream embodies the art of innovative skincare formulations. With over 18 months in the production stages, we crafted this lightweight, natural eye cream to improve the overall health and elasticity of the skin around and under the eye area. This all natural formula has been scientifically tested and proven to help reduce the appearance of dark circles, and puffiness, revitalising your eyes. 
The Key Ingredient:
In our Rejuvenation Eye Cream, our patented ingredient is Juveneye CLR 3%. It targets the most crucial skin processes that lead to the creation and lasting presence of dark circles. By blending extracts from Hieracium Pilosella and Bellis Perennis flowers, these active ingredients help break down heme. Heme is what makes dark circles under the eyes and is a key factor causing them. These key regenerating agents are genuine, natural, and utmost effective - setting a new standard for skincare. Step into the future of healthy, radiant skin with Lust Minerals. 
Rejuvenation Eye Cream benefits:
Hydrates and Refreshes: Saccharide Isomerate and Red Raspberry Seed Oil - Helps to maintain the skins moisture, and helps to reduce the appearance of fine lines and wrinkles to keep the skin looking more youthful. 
Supports to Diminish Puffiness and Dark Circles: Bid farewell to puffiness and dark circles with the synergistic combination of Hawkweed Extract and Daisy Flower Extract. These patented ingredients are heavily supported by incredible research. 
Environmental Protection: Shield your delicate skin from environmental aggressors that can contribute to ageing, ensuring your skin stays resilient and youthful.
Rejuvenated, Vibrant Glow: Strawberry Stem Culture which helps to brighten the skin for a healthy glow. Bearberry Extract and Pumpkin Seed Oil help to improve overall skin tone and radiance. 
Innovative Cooling Tip: Enjoy the ultimate skincare experience with our innovative packaging featuring a cooling tip, designed to enhance application and provide optimal results.
For clear, glowing skin, the Clear + Glow Sheet Mask is your ultimate companion. A true blend of nature and science, this gentle, effective mask illuminates your skin's innate radiance while addressing pigmentation and blemishes. 
The Key ingredient:
Our newest Clear + Glow Sheet Mask includes MultiMoist CLR which is a natural, plant-derived active ingredient. MultiMoist CLR addresses short and long term skin hydration by activating production of the vitamin D receptor (VDR), this results in immediate and long term moisturising properties naturally, leaving your skin smooth and hydrated.  
Clear + Glow Sheet mask benefits:
Enhanced Radiance & Smoothness: Patented Ingredients which consist of a synergistic blend of Fructooligosaccharides and Beetroot Extract. They have been proven to activate the production of the skin's Vitamin D receptors which leads to an improvement of the skin's moisture content, and helps lead to an overall smoother complexion. 
Deep Moisturisation & Anti-aging: With the key ingredient being 3% MultiMoist CLR,  the skin receives deep hydration and remains more supple. Plus, with added Native Australian extracts of Kakadu Plum and Finger Lime Extracts, which are high in Vitamin C, this assists with skin brightening and anti-aging. 
Supports to reduce Pigmentation & Blemishes: Incorporating Saccharide Isomerate (Pentavitin) and Niacinamide assists with diminishing the appearance of pigmentation and blemishes, revealing a natural glow. 
Spa-like Experience at Home: Enjoy a spa-like treatment without compromising skin, health, or the environment.
Introducing The Clean Skin Edit.
Unlock radiant skin with our exclusive collection – The Clean Skin Edit. It includes our sought-after Rejuvenation Eye Cream and Clear + Glow Sheet Mask, Gua Sha and Blue Beauty Headband. With the added Gua Sha, enhance your results by using this tool post-Sheet Mask to promote blood circulation, improve fine lines, and support lymphatic drainage.
Elevate your routine and achieve the skin you desire with The Clean Skin Edit - CLEAN, CONFIDENT, and CLEAR skin.

Elevate Your Skincare Routine Today!
These two innovative products encapsulate the fusion of modern science and the beauty of nature, promising to revitalise, illuminate, and transform your skin. Join us in embracing this exciting journey as you step into a world of skincare like never before. Your skin deserves this exquisite care.
Claim your FREE skin consultation - here.
Stay up to date with Lust Minerals - follow here.