Step by Step Guide to Preventing your Makeup from a Cakey Finish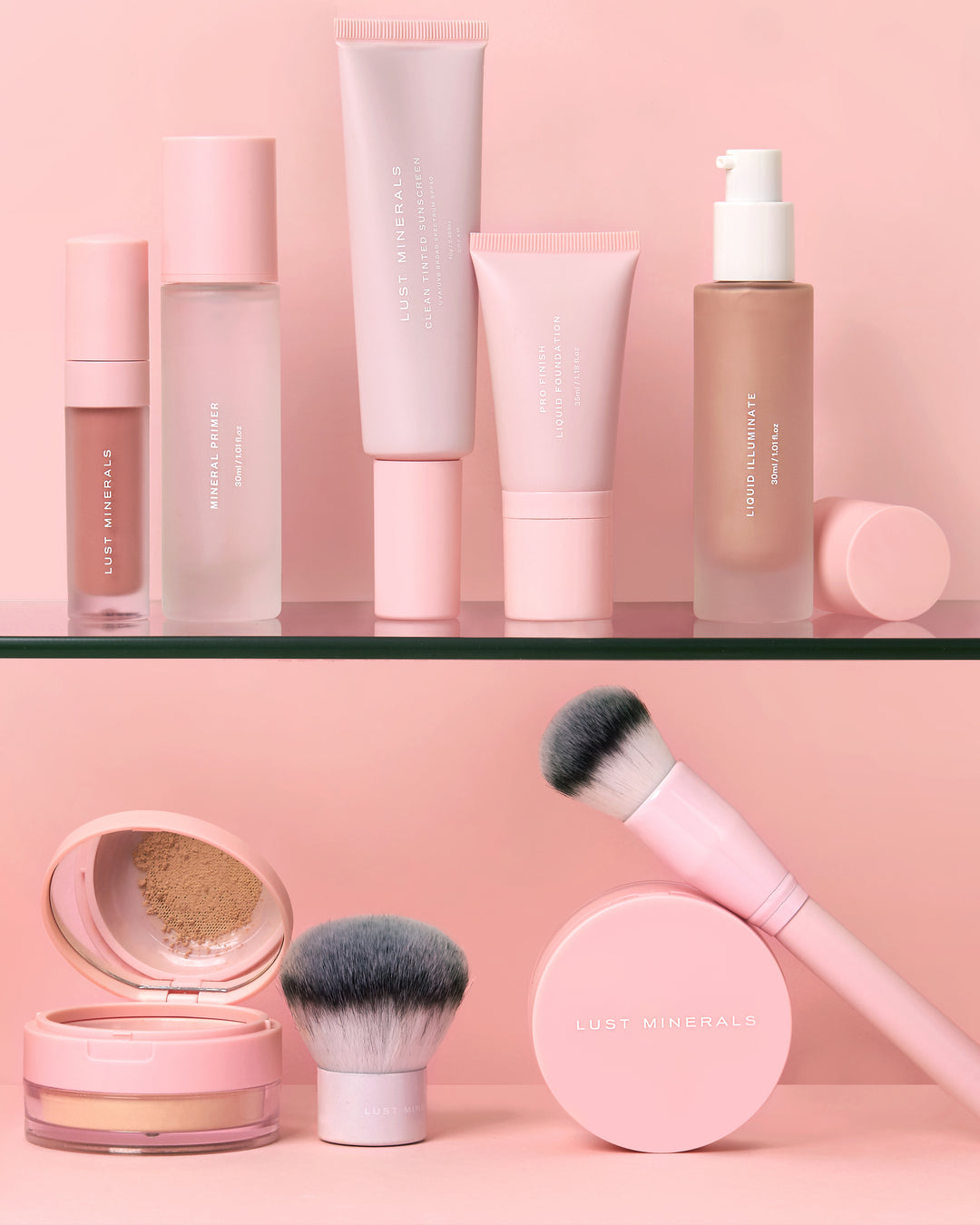 How to avoid Cakey Makeup 
If you're a beauty enthusiast or new to the world of makeup, we've all experienced the frustration of ending up with a makeup look that resembles a layer of cake on our faces (not a vibe!). Yes, we're talking about the infamous cakey makeup look! Imagine heavy, uneven layers of product that make your skin look less like a radiant goddess and more like a frosted dessert… Don't worry, you're not alone. Achieving a flawless and natural makeup look while still maintaining full coverage is an art form (unless you are using the right products and have perfected your routine). That's why we're here to share our essential steps, and the products you need that will help you achieve a flawless and effortless makeup look. Say goodbye to cakey makeup and hello to a radiant, natural beauty that will leave you feeling confident and fabulous!
STEP BY STEP GUIDE TO PREVENTING YOUR MAKEUP FROM A CAKEY FINISH
STEP 1- Prep Your Skin, hydration is key
The first step to preventing cakey makeup is ensuring your skin is well-hydrated and prepped for your makeup application. It truly is all in your prep. Well-moisturised skin provides a smooth canvas for makeup application, reducing the likelihood of product clinging to dry patches and creating a cakey appearance. Do not skip on the daily skincare routine! If you don't currently have a skincare routine, or you are looking to upgrade your skincare routine, chat to our Team of highly trained skin specialists, and they will work with you to create a custom plan that works for you and your skin - your skin's health is our top priority! 
STEP 2- Application tools change the game
How you apply your makeup plays a crucial role in preventing a cakey finish. Use a round blending brush or a beauty blender to blend, blend, blend. Starting from the jaw line and working your way up, using pressing motions. This will ensure the product is getting pressed into the skin and not sitting on the surface. You want to make sure you have stopped blending before your foundation has started to dry, as this can cause a balling effect or patchiness. 
Lust Minerals products we recommend:
STEP 3- Less is More
To achieve a flawless and lightweight finish, remember that less is more. Applying thick layers of foundation or concealer can lead to a cakey appearance. Instead, start with a minimal amount of product and blend it thoroughly, adding more only where needed. This approach allows you to even out your skin tone while maintaining a natural, breathable finish. Ideally, you want a lightweight yet full coverage foundation (incoming shameless plug) Lust Minerals foundations are lightweight while still offering full coverage! It's also important that you choose the right product for your skin type so let us break it down for you. 
Which Lust Minerals foundation is best for you?
STEP 4- Powder will Give a Flawless Finish - Use it Where Necessary: 
Powder can be a valuable tool for finishing your makeup and achieving a flawless look. However, it's important to use it strategically and sparingly to prevent cakiness. Focus on areas prone to oiliness or where makeup tends to crease, such as the T-zone. Using a fluffy brush, lightly dust over these areas to finish the makeup. Avoid applying excessive powder, as it can create a heavy, cakey texture. Remember less is more!
We also recommend carrying your Powder in your makeup bag as it's an easy product to apply touch ups with on the go (liquid, not so much...). Our Powders are also sweat resistant and water resistant which is great for Summer, and they also contain Vitamin E to hydrate your skin in Winter so let me tell you, they will become your go to all year round! 
Lust Minerals products we recommend:
♡ Mineral Loose Powder Foundation - dewy, glowy finish. 
♡ Mineral Pressed Powder Foundation -offers more of a matte finish. 
STEP 5- Use a Setting Powder
 Setting your makeup is essential for longevity of your makeup.. This helps your makeup stay fresh and natural throughout the day without adding additional layers that could contribute to cakiness.
Lust Minerals products we recommend:
Achieving a flawless and cake-free makeup look is within your reach by following these five essential tips. Remember to hydrate your skin, apply makeup in thin layers using the correct tools and foundation for your skin, use powder and setting powder strategically. With these techniques, you can enjoy a radiant and natural-looking complexion that lasts all day. Embrace the beauty of simplicity and say goodbye to cakey makeup!
Join our Clean Beauty Club for more tips like this - join here.
Stay up to date with Lust Minerals - follow here.