Spin to Win + 8 Major Prizes to Giveaway!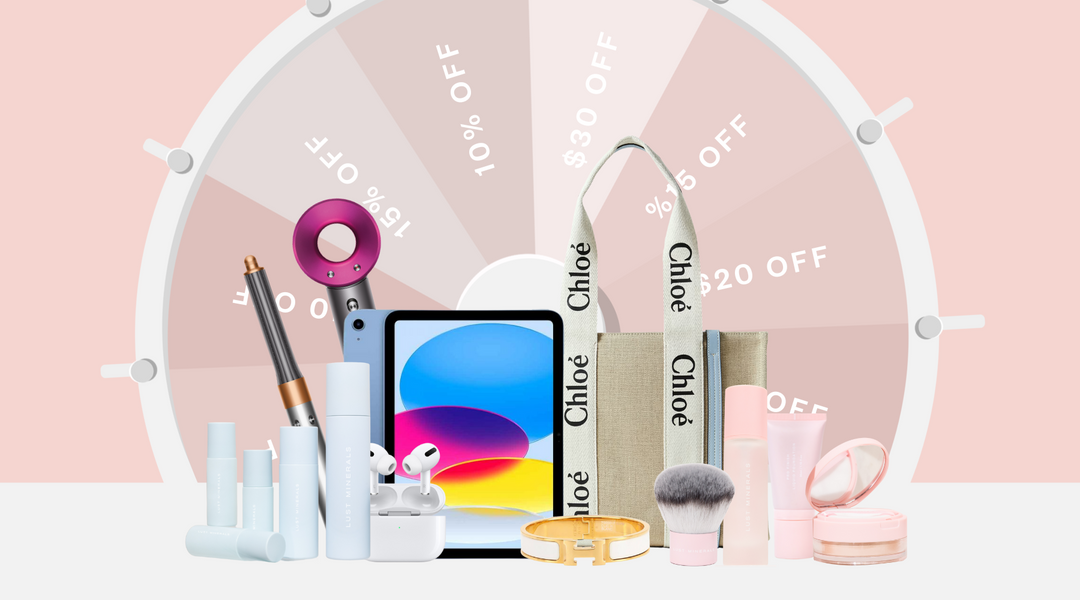 Lust Minerals, Australia's leading clean beauty brand is giving you the chance to WIN amazing prices for the whole month of February! 
For one month only you could get 2 chances to win amazing prizes with our Instant Spin & Win & 8 Major Prize Giveaway… plus there may be second chance options to retry your luck as well! 
How to play | Instant Spin & Win
All you have to do is visit the Lust Minerals website and wait for the Spin the Wheel pop up to appear on the screen, enter your details, click spin and see what you've won! 
If you've won a prize, this will be active for 60 minutes with a timer displayed at the bottom of the website. Please note that the prizes are system generated and cannot be extended or reactivated once the 60 minute timer has ended.
Didn't win a prize? Don't worry because you get the opportunity to do a new, free spin again every 24 hours! 
That's not all that we have happening here at Lust Minerals for February though…
How to go in the draw | 8 Major Prizes To Win
Want to win either one of the below prizes?!
     

Chloe Bag valued at $1,500

     

Dyson Hair Dryer valued at $549

     

Dyson Airwrap valued at $899

     

iPad - 10th Gen 64GB valued at $749

     

Hermes Bangle valued at $935

     

Apple AirPods Pro  - 2nd Gen valued at $369

     

6 months supply of Lust Skincare valued at $800

     

6 months supply of Lust Makeup valued at  $800
All you have to do is place an order with us during February for your chance to win! No minimum spend requirements. 8 lucky orders will be selected at random to receive one of these amazing prizes. 
If you receive a winning ticket in your Lust Minerals order, please send an email to info@lustminerals.com.au with your full name, contact number, email address, and a photo of yourself holding the winning ticket.
At Lust Minerals, everyone has a chance to be a winner with its second-chance offer. Those who don't receive a winning ticket for the 8 major prizes will receive a second chance offer card for a digital scratch & win ticket! 
Second-Chance Offer | Digital Scratch & Win
Simply scan the QR code that comes in your order and enter your email for a guaranteed WIN of a prize! It's that simple. 
The month is flying by quick so make sure you take advantage of these incredible limited time offers! 
Terms and Conditions
Please note that you can only use one discount code per order and they can't be combined with any other offers or codes. All prizes are non-exchangeable and can't be refunded or transferred to someone else. Also, keep in mind that winning a prize is not guaranteed as this is a game of luck and is given at random. Join us to spin the wheel and spin and win prizes for the whole month of February. 
If you have any questions or need any support, please don't hesitate to contact our friendly team at support@lustminerals.com.au
Your journey to clear, healthy skin starts here. Shop Lust Minerals Skincare today. Be sure to follow us on Instagram so you don't miss out on all things clean beauty!
Want to join the clean beauty club? Click here to join our clean beauty community today. 
Learn more about your skin with a skin consultation! Click here to speak with one of our skin experts today.
Unsure which shade to choose, reach out to our professional customer support team today and they can support you. support@lustminerals.com.au 
Stay in touch with us 💛
Instagram: @lust__minerals 
Website: https://lustminerals.com.au/
CEO & Founder Stacey Hollands: @stacehollands