Skincare Chat: Ageing Skincare Tips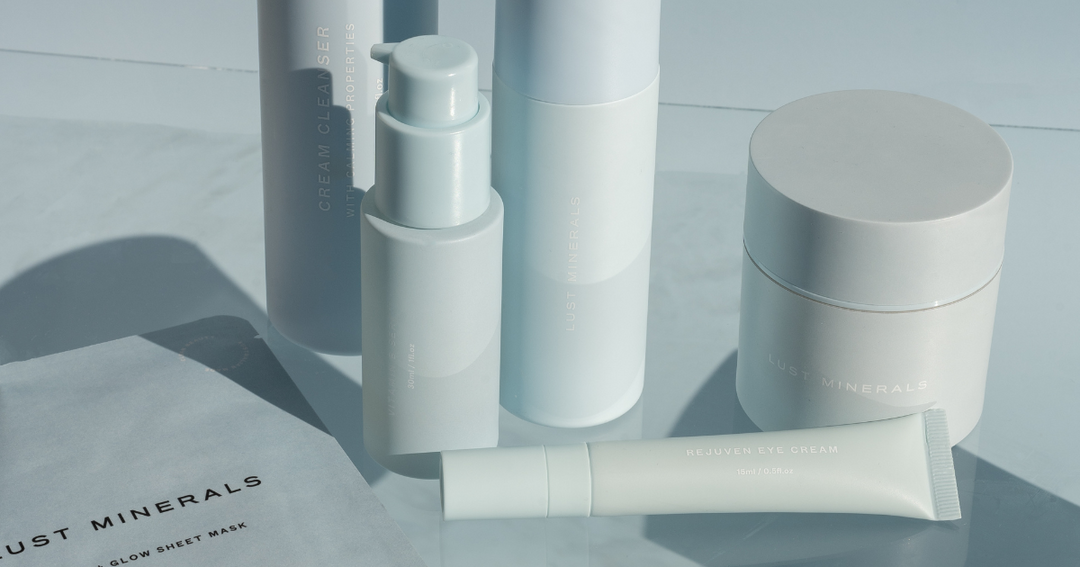 Let's chat about ageing! For many of us, maintaining a youthful glow is a priority of ours and as we know, ageing and beauty can be influenced by an array of factors. While we can't stop the clock, we can certainly embrace ageing with grace. Let's chat about skincare and Lust Minerals skincare products that can support maintaining that youthful glow!
Approaching Ageing
While a gracefully ageing face is a beautiful and natural thing, it's possible that we speed up the ageing process with UV exposure, pollution, and poor habits. As the saying goes, 'prevention is better than a cure.' It's never too early to start prioritising your skincare and health, even if you're in your 20s. In fact, by starting early, you can proactively protect your skin from the effects of ageing. Let's explore some valuable tips and tricks for supporting your skin with ageing that you can start to implement today.
1. Protect Your Skin from the Sun 
Practise, practise, practise your sun protection! Sunscreen is designed to protect your skin from ageing caused by the sun. When applied properly, sunscreen helps to shield your skin from harmful UV radiation, preventing sunburn, premature wrinkles and age spots.
Lust Minerals recommendation: Clean Tinted Sunscreen + Hyaluronic Acid - SPF 50. This all-natural product is designed to provide UVA + UVB broad-spectrum protection. This sunscreen includes Hyaluronic Acid, known for its hydrating properties, which can be particularly beneficial in addressing signs of ageing. Plus, did you know our best-selling Pro Finish Liquid Foundation contains SPF20 and our best-selling Mineral Loose Powder Foundation contains SPF15 to support skin protection?
2. Hydration is your best friend 
Hydration is essential to maintaining optimal skin moisture and delivering vital nutrients to the skin cells. It helps to replenish the skin tissue, assists in increasing elasticity, and can support in delaying the onset of ageing.
Lust Minerals recommendation: Hyaluronic Acid Serum. This serum is designed to provide an immediate hydration boost while helping to maximise collagen levels. Our Hyaluronic Acid Serum is one of Australia's most potent, containing 97% Hyaluronate in 2% solution for optimal results.
3. Use targeted Serums
Serums are able to penetrate deeply into the skin and deliver high concentrations of ingredients which actively work to correct specific skin concerns such as wrinkles, pigmentation and dehydration. 
Lust Minerals recommendation: Vitamin B Serum Complex. Our advanced Vitamin B Complex Serum is designed to aid in brightening skin tone and promoting skin elasticity. Containing B3, B5 and Resveratrol to assist with slowing down the ageing process.
4. Show Love to Your Eyes 
The skin around our eyes is fragile, more prone to dryness, and quicker to reveal age and fatigue. Squinting and constant movement of the eyes also hasten the appearance of lines and wrinkles, and fluids collect under the eyes causing puffiness and dark circles. Incorporating an eye cream into your routine can assist you with addressing these issues. 
Lust Minerals recommendation: Rejuvenation Eye Cream. Our lightweight, restorative, all natural Eye Cream is specifically designed to shield against environmental aggressors, provide hydration, and diminish the appearance of puffiness and dark circles. Containing Juveneye CLR 3% - a strong patent ingredient that's been tested for skin lightening and regeneration, Red Raspberry Seed Oil 2% - to maintain skin moisture, Coffee Extract 0.5% - boosts collagen production, reducing the appearance of fine lines and wrinkles whilst encouraging skin circulation, plus many more hero ingredients and benefits!
5. Support your Collagen Production
As we age, our body begins to slow the production of natural collagen and cell structures begin to weaken. As a result of this, the skin can become thinner, drier, and less elastic. The loss of collagen is a significant factor contributing to wrinkle formation. Collagen is one of the most important proteins in the body, creating the infrastructure for elastin and hyaluronic acid, which are responsible for skin's elasticity and hydration. 
Lust Minerals recommendation: Vegan Beauty Crystals - Watermelon. Our beauty crystals are the ultimate beauty powder with Vitamin C to help boost collagen formation and support supercharging your immune system. The acerola extract is very high in Vitamin C which contributes to support collagen formation naturally within the body.
Lust Minerals believes in empowering you to feel confident and beautiful at every stage of life. Ageing is a gift we all get to experience. With the right skincare routine and quality, clean products, we can embrace the process with grace, together. Reach out to our team if you require further advice on which products are best suited to you. 
Nurture your skin, and explore the entire
Lust Minerals
skincare range
here
.