Say hello to the SPF Mini!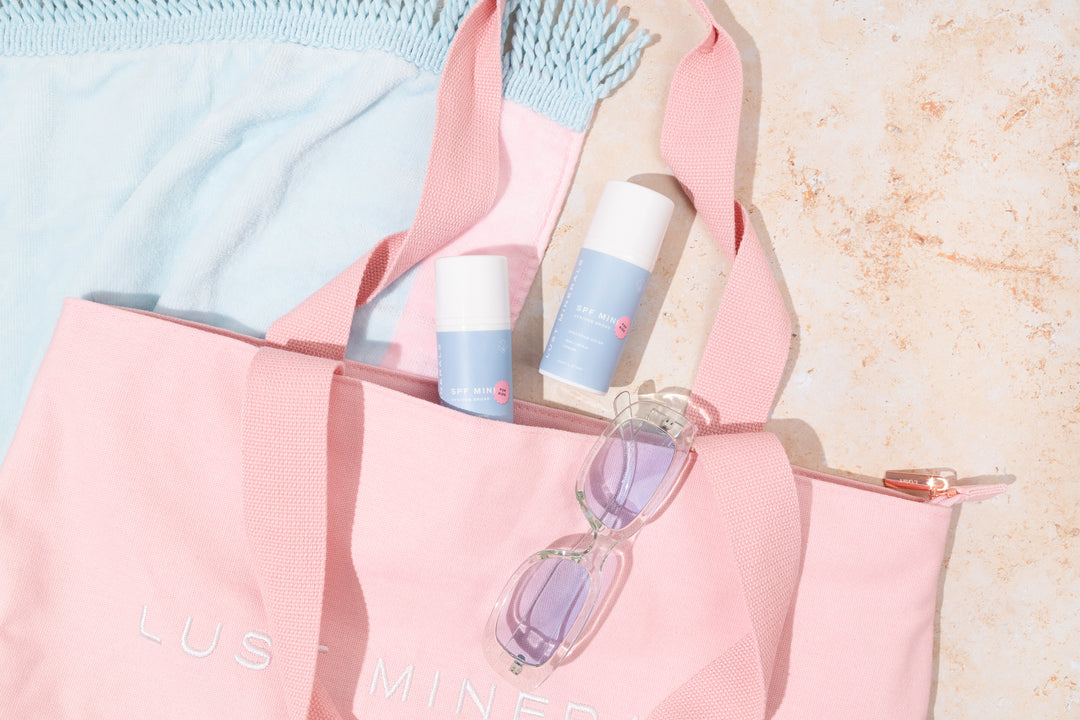 It's time to get summer-ready with Lust Minerals. The miracle product, Lust Minerals Clean Tinted Sunscreen + Hyaluronic Acid - SPF50 now comes in a mini version for your mini! This product will instantly become one of the staple items you need in your handbag or your family beach bag all summer long. 
The compact size of the Lust Minerals SPF Mini is too good to resist and you will find it super easy to carry around with you. The best thing about getting your hands on the Lust Minerals SPF Mini  is that not only will it protect your family from harmful UV rays, but it will protect them from any unwanted chemicals and toxins which can be absorbed into our bodies. This SPF is also infused with Hyaluronic Acid to nourish and deeply hydrate the skin, so you can say goodbye to the days of tantrums about irritable sunscreen with this all natural, clean beauty SPF Mini by Lust Minerals.
The formulation of the Lust Minerals SPF Mini is packed with plenty of nourishing ingredients that are good for your skin, your kid's skin, and most importantly, the inside of your body too. You will find that Zinc (oxide) is one of the main ingredients in this SPF Mini, which is perfect for children.  This slighter thicker texture SPF is designed to stay on the skin for longer, therefore offering better protection. The Lust Minerals SPF Mini will be your family's knight in shining armour while on holidays. 
There is so much to love about the newly released Lust Minerals SPF Mini. Made from all natural & organic ingredients, perfect for kids, packed with minerals that nourish your skin, and is the perfect travel size product for you to use as well. Pack this in your handbag, backpack, or suitcase, and know that you can soak up every bit of summer sun on your next vacay whilst still protecting your skin. The Lust Minerals SPF Mini will keep you and your family protected all day long! 
The Lust Minerals Skincare range offers a wide variety of australian-made clean-beauty products. The SPF Mini pairs perfectly as a base to many of these products, whether it's the Lust Minerals Rejuvenation Oil  or a Lust Minerals Smooth Mineral Glow Foundation. The formulation of the SPF Mini product is one you don't want to miss out on! 
If you love to travel and find a skincare routine to be your guilty pleasure, then the SPF Mini is also a must-have for you. Discover why below! 
It's no secret that sunscreen is a must-have in your daily skincare routine. Everyone needs to stay protected from the harsh UV rays, especially during the warmer months of the year. That's why the Lust Minerals SPF Mini is the perfect product for you. Applying sunscreen in the morning before a big day out comes naturally, but topping up on your SPF throughout the day isn't always that easy. Whether it's for yourself or your children, you can now quickly and easily re-apply your sunscreen throughout the day with the Lust Minerals SPF Mini. 
The one ingredient in this product that ensures your skin stays protected all day and night long is Zinc. Zinc, or Zinc Oxide is one of the best ingredients that can be applied to any sunscreen formulation. Zinc can help to protect your skin from harsh UV rays, which can cause burns, skin damage, and skin cancer. Zinc is also resistant to water, which makes swimming at the beach, pool, or spending a day in the afternoon that much more enjoyable. You can kick back and relax knowing you and your children are protected with the Lust Minerals SPF Mini. 
Our purpose is to empower you and women worldwide to explore clean beauty and mineral-based products for your skin. Without any harmful ingredients in the way, we know that you will be on the right track to healthy skin with the Lust Minerals Skincare range. Add the Lust Minerals SPF Mini to your summer skincare routine and stay protected all day and night long. This product will be a crowd favourite with your children!
Your journey to clear, healthy skin starts here. Shop Lust Minerals Skincare today. Be sure to follow us on Instagram so you don't miss out on all things clean beauty!
Want to join the clean beauty club? Click here to join our clean beauty community today. 
Learn more about your skin with a skin consultation! Click here to speak with one of our skin experts today.