Prioritising Pregnancy-Safe Skincare: A Guide to Healthy Choices with Lust Minerals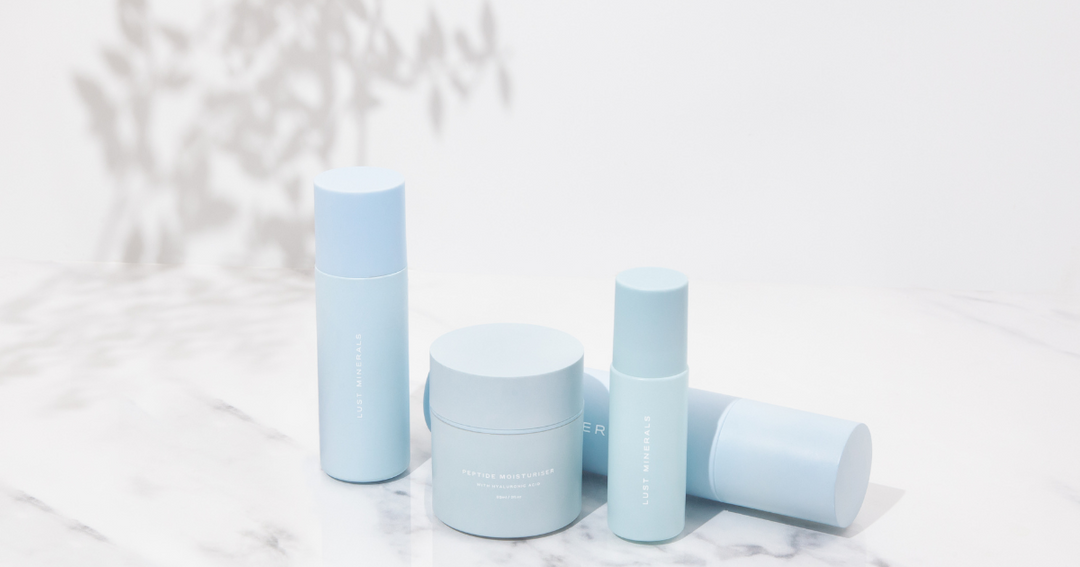 When it comes to skincare during pregnancy, it's crucial to prioritise the safety of both you and your growing baby. With the abundance of skincare products available, it's important to understand the significance of choosing pregnancy-safe options that are free from harmful chemicals. In this blog post, we will delve into the importance of selecting skincare products carefully and introduce you to Lust Minerals, a trusted clean beauty brand. Let's find your new pregnancy safe skincare routine!
Understanding the Importance of Pregnancy-Safe Skincare: 
During pregnancy, hormonal changes can lead to various skin concerns, including dryness, sensitivity, acne, and pigmentation. It's crucial to be mindful of the products you use on your skin during this special time. Many conventional skincare products contain chemicals that may be potentially harmful to you and your baby. Therefore, opting for pregnancy-safe skincare is a wise choice to ensure the well-being of both you and your little one.
Lust Minerals Skincare
A Commitment to Clean Beauty: 
Lust Minerals is an esteemed clean beauty brand that focuses on using natural, high-quality ingredients. With Lust Minerals, you can trust that our formulations are free from harmful chemicals, synthetic fragrances, and other potentially unsafe substances. Our dedication to clean beauty makes us a reliable choice for your pregnancy skincare needs.
Building Your Pregnancy-Safe Skincare Routine: 
Now that we understand the importance of pregnancy-safe skincare, let's explore the products offered by Lust Minerals that cater to the specific needs of expectant mothers.
Gentle Cleansing: 
Start your skincare routine with a gentle cleanser that effectively removes impurities without stripping your skin's natural moisture barrier. Lust Minerals offers two excellent options:
Superfood Gel Cleanser: Infused with soothing botanicals, this cleanser cleanses and nourishes your skin, leaving it feeling refreshed. With its gentle yet effective ingredients, you can enjoy the same nourishing benefits on your body as you do on your face, making it the perfect all-in-one solution for your skincare routine. 
Calming Cream Cleanser: Formulated with gentle ingredients, this cream cleanser is ideal for sensitive skin, providing a calming and hydrating effect.
Nourishing Serums:
Address common skin concerns during pregnancy with Lust Minerals' range of nourishing serums. These serums are designed to hydrate, balance, and promote a healthy complexion. Consider the following options:
Hyaluronic Acid Serum: Infused with hydrating ingredients, this serum replenishes moisture levels and improves skin elasticity.
Vitamin B Serum: Packed with vitamins and antioxidants, this serum helps to even out skin tone and calm sensitive skin.
Vitamin C Serum: A powerful antioxidant, this serum helps to brighten the skin, reduces hyperpigmentation, and boosts collagen production.
Moisturisation and Hydration:
Maintain your skin's moisture balance with Lust Minerals' nourishing moisturisers. These lightweight formulas provide hydration and support your skin's elasticity:
Probiotic Moisturiser: Specifically formulated for sensitive and breakout-prone skin, this moisturiser goes beyond traditional skincare by harnessing the power of probiotics. Probiotics are beneficial bacteria that work in harmony with your skin's natural microbiome to promote a healthy complexion.
Peptide Moisturiser: Ideal for drier skin types and mature skin, this moisturiser is enriched with nourishing ingredients to hydrate and revitalise your skin.
Sun Protection: 
Shield your skin from harmful UV rays with Lust Minerals Clean Tinted Sunscreen with SPF50. This broad-spectrum sunscreen uses non-nano mineral filters, making it a safe choice for pregnancy. It effectively protects your skin without clogging pores or leaving a white cast. With its light tint coverage, it enhances your natural skin tone, giving you a healthy, radiant complexion. Get long-lasting, sweat-proof protection with this multi-tasking very light tinted zinc based sunscreen.

Skincare Consultations:

To further assist you in creating a personalised pregnancy-safe skincare routine,
Lust Minerals
offers free online skincare consultations. Skincare experts will assess your skin concerns, type, and sensitivities, providing tailored recommendations from our range to address your specific needs.
Get your free Skin Consult - here
Choosing pregnancy-safe skincare products is a vital step towards ensuring the well-being of both you and your growing baby. With Lust Minerals, you can trust our commitment to clean beauty and our range of safe and effective skincare products. By understanding the importance of pregnancy-safe skincare and selecting products that are free from harmful chemicals, you can create a skincare routine that promotes a healthy pregnancy. Join the clean beauty club, your future self, skin, and baby will thank you for it.
Shop Lust Minerals Skincare selection - here
Get your free Skin Consult - here
Follow more of Stacey's journey via her Instagram - follow here
To stay up to date with Lust Minerals,
follow here