Our Top Tips for Healthy, Glowing & Youthful skin!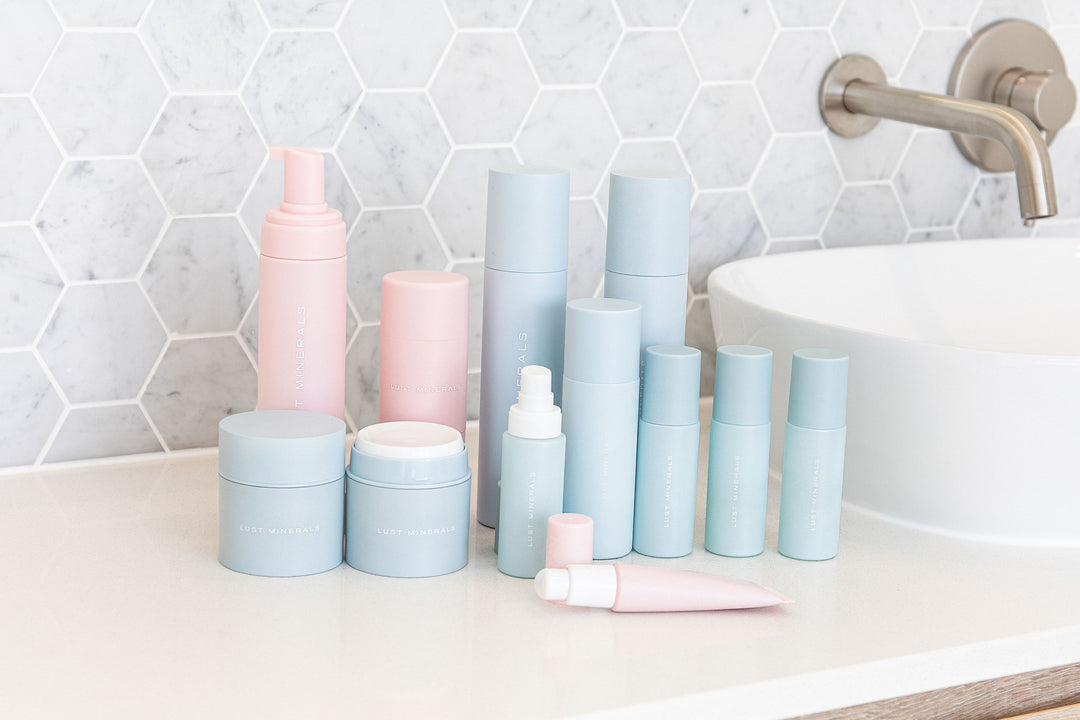 Aging is a process that we all know can't be delayed. However with a few simple beauty steps and with the right products, it doesn't have to be the dreaded concept that it is. 
Here are 5 simple steps to follow to help maintain a brighter, healthy and more radiant complexion. 
Apply sunscreen daily 
The sun is one of the main culprits for damaging the health of your skin.
The best thing about the Lust Minerals Clean Tinted Sunscreen + Hyaluronic Acid - SPF 50 is that not only will it protect your skin from the harmful UV rays, but it will protect your skin from any unwanted chemicals and toxins which can so easily be absorbed into our bodies. 
The Lust Minerals  Clean Tinted Sunscreen + Hyaluronic Acid - SPF 50 is an all natural and nourishing zinc-based SPF that provides the skin with an instant hydration boost with the infused hyaluronic acid component. Being zinc based, it is slightly thicker in texture as it is designed to stay on the skin for longer to offer better protection. 
That's not all though—it's sweat-resistant, reef-safe, cruelty-free, and vegan! It's the ideal sunscreen for the whole family as it is safe to use on all ages (including kids!), and it's gentle for even the most sensitive skin types. 
This multitasking tinted SPF is best used on the face and will provide the perfect bronzed glow to the skin for those no-makeup beach days. 
Regular Cleansing
Regular cleansing is an essential step in your skincare regime. 
Cleansing the skin helps to remove any bacteria, dead skin cells, and excess oils which can lead to blemishes. However, did you know that over-washing your face can also strip the skin from its natural oils and can cause irritation? This is why it is important to use a cleanser that is effective, yet gentle on the skin. 
The Lust Minerals Superfood Gel Cleanser and Calming Cream Cleanser are the perfect face cleansers as they offer a deep and nourishing cleanse without leaving your skin feeling dry. The Lust Minerals Cleansers contain only the highest quality ingredients that are also natural. We don't sacrifice quality for results, and we don't sacrifice your health in order to achieve these results. You can be at ease knowing that the health of your skin is our top priority. 
 The Lust Minerals Superfood Gel Cleanser is packed with superfoods such as Parsley, Green Tea, Wheatgrass, and Alfalfa which are designed to offer a spectacular antioxidant boost for the skin. The Lust Minerals Superfood Gel Cleanser is best suited to those with combination, oily or breakout prone skin and will be your go to cleanser if you're wanting to combat that feeling of dull-looking skin. 
The Lust Minerals Calming Cream Cleanser is a rich and creamy cleanser that has been designed specifically for sensitive, dry, and mature skin types. It is infused with Milk Thistle, which is an ancient herb that has anti-inflammatory properties which can help to reduce redness and rosacea. Naturally scented with herbs and flowers including Jasmine, Patchouli and Chamomile, this cleanser will instantly comfort delicate skin whilst still being effective enough to remove daily pollutants, excess oils and makeup. 
3. Gentle Exfoliation
Is Exfoliating really necessary? Some people question this especially if they are already cleansing their skin daily. We are here to tell you that exfoliating a minimum of 2-3 times a week is a must if you want to achieve a radiant, brighter and blemish-free complexion. 
Exfoliating the skin will help to further decongest and break down daily pollutants and dead skin cells, as well as help to unclog pores and even and smooth out your skin tone. 
The Lust Minerals AHA Exfoliating Lotion is designed specifically for this purpose. It contains a potent blend of clean, vegan ingredients with 18% AHA fruit acids. In simple terms, the Lust Minerals AHA Exfoliating Lotion works the same as if you were to have tiny pac men eating away at the dead skin cells and bacteria on the skin surfaces. This paves the way for new, healthy cells to rise to the surface - it's the facial experience right in your own home. 
Although potent, this multitasking lotion is incredibly gentle and can be used as an overnight mask or daily serum. 
Hydration is key
Our bodies are made up of approximately 60% water, so it's no surprise that when we don't drink enough of it, our bodies, including our skin, starts to suffer. 
The Lust Minerals Hyaluronic Acid Serum is a natural, highly concentrated serum, containing 97% Hyaluronate. It instantly hydrates dry and dehydrated skin by sealing in moisture and preventing water loss. Its minimal ingredients result in a highly concentrated formulation of Radish Root and Hyaluronic Acid making it a powerful hydrating complex. This multitasking serum also maximises collagen levels to give your skin a plump and youthful glow. 
Tip: The more hydrated your body is, the better this serum will work for you!
Use cleaner alternatives!
Did you know that people on average absorb over 2 kilos of toxic chemicals every year? 
Our skin is our largest organ, and it absorbs almost everything that we put onto it.  That is why it is so important to limit exposing our skin to chemicals and toxins which can be found in conventional beauty products. 
We at Lust Minerals don't compromise your health in order for you to look and feel your best. Lust Minerals believes in investing in only the highest quality and cleaner alternative ingredients to transform your skin and your life. 
Lust Minerals has been formulating natural products since 2004 that are superior in quality, vegan, cruelty free, ethical, and that are good for the planet. The Lust Minerals makeup and skincare range is free from SLS, paraben, phthalates, and synthetic fragrances so you can feel at ease knowing that the products you're using are not going to cause more harm to your skin or your health in the long run. Instead, the Lust Minerals products act as a multivitamin for your skin offering healing and soothing benefits with the added superfood ingredients that the products contain. Founder and CEO, Stacey Hollands was dedicated to ensuring that her products offered her customers with a solution, rather than a "quick-fix" or a cover up for your skin concerns. 
Stacey Hollands is an advocate for healthy living and is known for inspiring, educating, and empowering millions of people worldwide to make the switch to a cleaner lifestyle as not only will it have a positive impact on your skin, but your overall health and the environment as well. 
Here are some simple tips from Stacey to hopefully empower you to take control of your health, and most importantly to reduce those unwanted chemicals that we are exposed to on a daily basis. 
Make the switch to Clean Beauty. 
Stacey founded Lust Minerals with the purpose to provide men and women with an alternative to synthetic and harmful chemical based beauty and skincare products. Stacey has proved that Mineral Makeup and Natural Skincare has high-performance power to change your skin, your life and leave the planet a better place. 
Lust Minerals Mineral Loose Powder Foundation is Stacey's favorite makeup product and here's why:
Contains Vitamin E so is hydrating on the skin and leaves the skin with a luminous glow.

Buildable coverage

Contains SPF15

Sweat and water resistant 
Lust Minerals Hyaluronic Acid Serum is Stacey's go-to for skin care as it's highly concentrated containing 97% hyaluronate, unlike any other serum on the market. 
Wash your fruit and vegetables with baking soda to rid them of pesticides and chemicals. A simple task like this can go a long way for you and the whole family. 

Use a natural toothpaste. Stacey has been using Grants Toothpaste and highly recommends it for those wanting a more natural alternative. 

Drink filtered water over tap water. Filtered water offers so many more health benefits than tap water. There are so many impurities that can be found in tap water and over time these can lead to serious health concerns. 

Cut out chemical cleaning products and opt for a cleaner alternative instead. Stacey recommends Pleasant States Cleaning Products because they're natural and safe for your home environment, yet still effective to do the job! 

Vegan Beauty crystals - everyday! The Lust Minerals

Watermelon Vegan Beauty

Crystals is like a greens powder only it's delicious! Perfect for the whole family, the Lust Minerals Watermelon Vegan Beauty Crystals is packed full of 18 powerful superfoods to give you an overall health boost. Can be consumed on their own, or added to your smoothie… Stacey even uses them to make ice-blocks for the kids in Summer! 
Want to hear more from Stacey? Follow her on Instagram for more beauty, lifestyle, and clean living tips! 
Your journey to clear, healthy skin starts here. Shop Lust Minerals Skincare today. Be sure to follow us on Instagram so you don't miss out on all things clean beauty!
Want to join the clean beauty club? Click here to join our clean beauty community today. 
Learn more about your skin with a skin consultation! Click here to speak with one of our skin experts today.
Unsure which shade to choose, reach out to our professional customer support team today and they can support you. support@lustminerals.com.au 
Stay in touch with us 💛
Instagram: @lust__minerals 
Our founder's Instagram: @stacehollands
Website: https://lustminerals.com.au/