Natalie – Mrs Tink Blog & Miss Monogram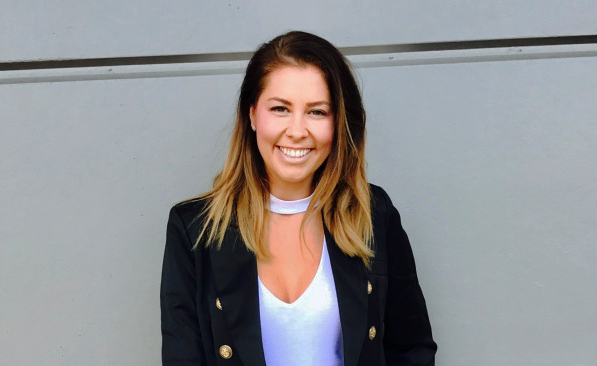 Luxe yet accessible
As the owner of three small business' it's not a surprise Natalie Tink is a finalist in this year's Sunshine Coast Business Woman of the Year Awards. She is nominated in the Micro Small Business category for Coast to Coast Media, My Real Estate Voice and her newest venture- Miss Monogram which launched in November 2016.
Miss Monogram is an online store which specialises in bespoke monogrammed leather goods for men and women. There are bags and accessories for the office, travel and especially for brides and their weddings.
"Miss Monogram has been a dream of mine for some time," Natalie says.
"I have loved monogramming everything I could get my hands on, especially since I got married.
"With my love of fashion, it was an easy choice to join that world."
Each Miss Monogram piece has a custom monogram which gives customers a chance to wear their own personal stamp rather than big companies.
"I love watching the social media newsfeeds fill with our products and seeing how happy it makes people having something unique to them," Natalie says.
Ever since she was a little girl Natalie has loved all things fashion. She can never get enough of clothes, handbags and shoes.
"I love celebrating everything about being a girl- dressing up, wearing often too much pink and sparkling it up with lots of shiny things," she says.
"I love soaking up fashion magazines and following the red carpets for hair and makeup trends."
Natalie says her guilty pleasure for many years has been enjoying a glass of bubbles while watching re-runs of Sex and the City.
"Oohing over all of the lady's outfits and accessories. I just can't get enough," she says.
While Natalie loves to follow current fashion trends her personal style is more polished and traditional like a good blazer and jeans for day to day.
Natalie's daily ritual starts by getting up at 5am to either attend boot camp, or go for a walk by the beach.
"I then venture home for green tea, porridge and cuddles with my little kitty Spaulding before the kids wake up and the crazy begins," Natalie says.
"I also run the Mrs Tink Blog where I review great products, like Lust Minerals, and talk about my life as a wife to Brad and mother to Kooper, eight, and London, three.
"I started the blog when I was breastfeeding my youngest as I had a lot of time on my hands.
"My little vampire fed for three hours at a time and for someone like me who is used to being busy 24/7 I was climbing the walls having to sit still for so long!"
Natalie quickly built a large following of ladies from all over Australia who gave her an outlet.
"During those first six months I really valued having something just for me while she fed," Natalie says.
"Since then the blog has grown rapidly and with that, so have the opportunities.
"I've been very fortunate to connect with some fabulous brands and have been able to pass them on to my readers.
"I blog because I love connecting with my readers all over the country and showcasing products that I believe in."
Natalie is a fan of Lust Mineral Cosmetics.
"I have to say, as a user of Lust Minerals for some time, I found it is the perfect make-up for me especially the BB cream, which I love," she says.
"It's perfect for a busy woman on the go."
Follow Miss Monogram on social media:
Instagram: https://www.instagram.com/missmonogram_official/
Facebook: https://www.facebook.com/missmonogramofficial/
LinkedIn: https://www.linkedin.com/company-beta/17988336/
& keep up to date with Mrs Tink Blogs:
Facebook: https://www.facebook.com/MrsTinkBlog/
Instagram: https://www.instagram.com/mrstinkblog/
Website: https://mrstinkblog.com/
What is your favourite fashion accessory?