MYTHS ABOUT SKINCARE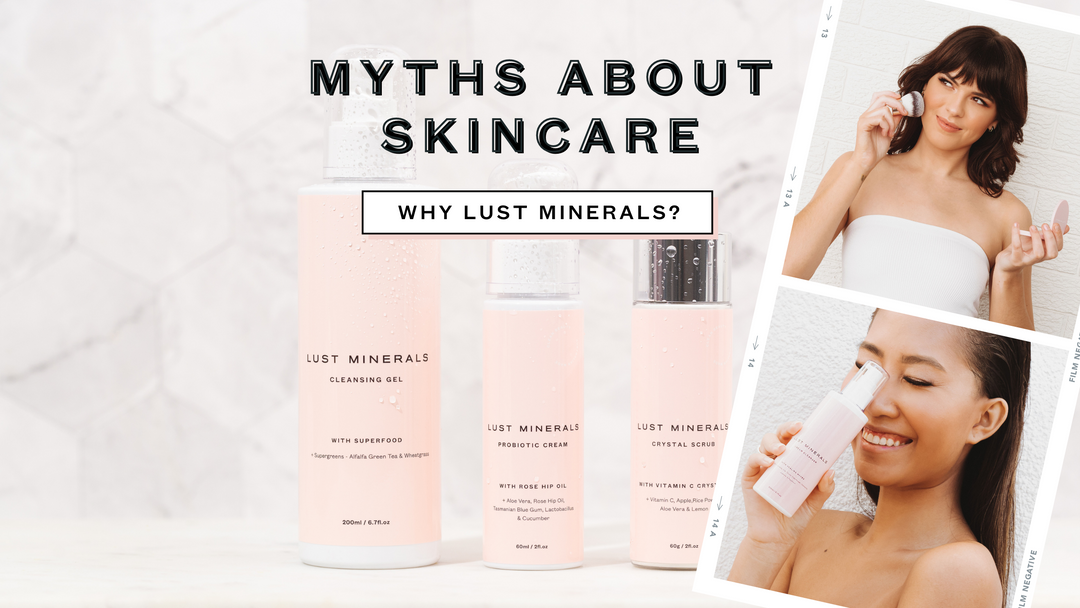 Myth- Hot water is good for your skin – FALSE
Washing or showering in hot water actually removes oils and natural moisturisers from your skin. This can leave skin dry and itchy. Your face is particularly sensitive to hot water, so even if you enjoy a hot shower on your body, make sure to only use warm water when washing your face.
Myth- SPF protection is all the same – FALSE
Many products (not just sunscreen) have SPF protection. However, not all products protect against both UVA and UVB rays. Many makeup products, for example, offer only protection from UVA. If you're going to be in the sun, make sure any exposed area is protected from both types of damaging rays. Lust Minerals Loose Powder Foundation and Pressed Powder foundation offer SPF protection against damaging sun rays.
Myth- "Dermatologist Tested" Makes a Product Trustworthy – FALSE
"Dermatologist Tested" is not an official certification, it's just a marketing slogan. Legally, this should mean that at least one dermatologist did test the product, it doesn't mean the TGA,  FDA, the American Academy of Dermatology, or any other organisation endorses the product. Be wary of this claim if you can't identify the source of the endorsement. We believe customer reviews are always best to go by. 
So why does skincare actually matter?
It's like anything in life -  what you put in, is what you will get out. The same goes with our skin and that is why it is so important to have a well thought out skincare routine that works for you.
Proper skin care ensures that your skin has the nutrition it needs to repair itself, to fight off those dreaded breakouts and other skin concerns that no one wants to go through. Not only will the right products help to treat these skin conditions, but with continuous use, they will help to prevent them in the future. 
An effective skincare routine will also assist in slowing down the ageing process, which in turn will have your skin looking and feeling its best. 
Skincare and makeup also go hand in hand, so having a personalised skincare routine will help with your application process and will promote a flawless, long lasting base. 
Not to mention our skin is our largest organ, so taking care of it really is essential for your overall health.  
Why Lust Minerals Skincare?
We pride ourselves on formulating natural products that are superior quality, vegan, cruelty free, ethical and good for the planet.

Our vision is to inspire women worldwide to make the switch to cleaner skincare products that still offer amazing results. We are committed to using high quality ingredients that are designed to treat the skin and improve the health of the skin, we believe there is no need to use harsh chemicals to get results. 

We will always ensure our skin care is free from parabens and SLS, and contains nothing synthetic or artificial. We value natural and nourishing ingredients, and will always prioritise vegan ingredients.

The secret is that we ensure our products contain ingredients that are naturally active, that are potent, yet incredibly gentle on sensitive skin. We believe in investing in only the highest quality and ethical ingredients to ensure we are creating products we can stand behind.
Your journey to clear, healthy skin starts here. Shop skincare.
Make sure you follow us on 
Instagram
 so you don't miss out on what else we have in store for you for 2022! 
Intrigued to join the clean beauty club? 
Click here
to join our clean beauty community today. 
Looking for a colour match? 
Click here
 to speak with one of our girls today.