Lust Minerals Secrets to Glowing Skin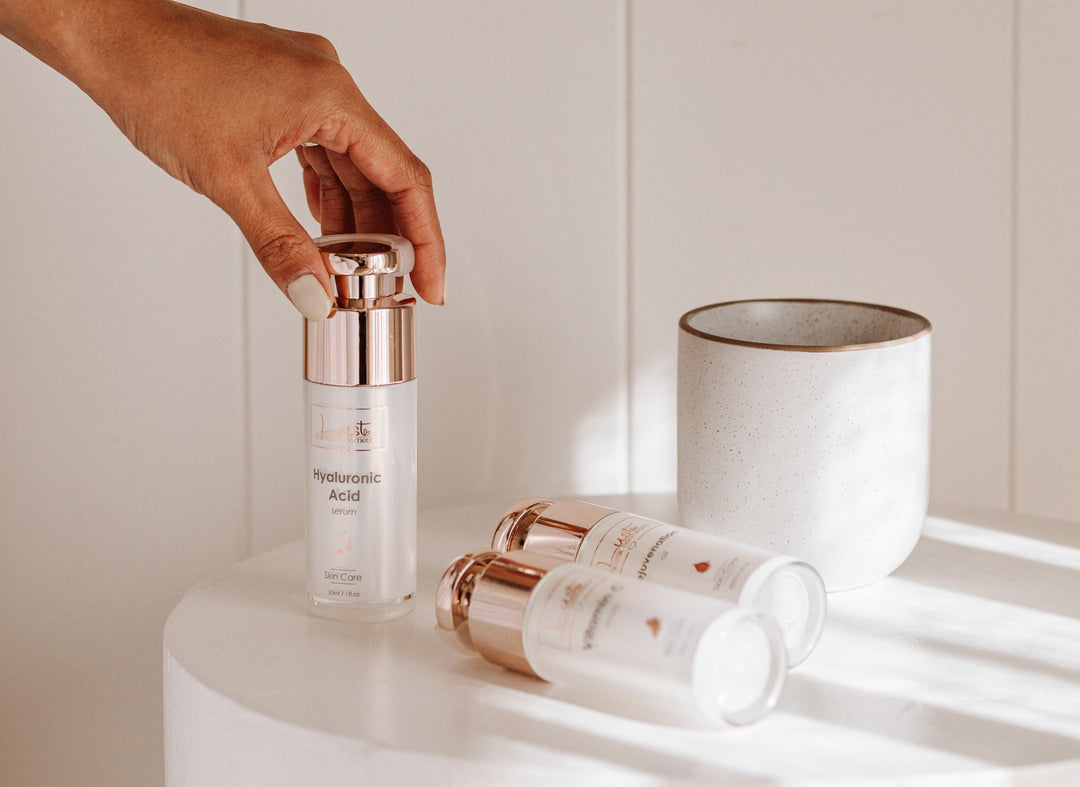 We all know about moisturisers and cleansers and the importance of simply washing our faces to prevent breakouts and congestion. But what a lot of us may not know is the importance of using supplementary
Serums
in our skincare routines.
Serum simply means a product that you use in your skincare routine, usually after cleansing and before moisturising to provide added active ingredients that have various benefits for your skin and are highly concentrated.
OUR TRIO SERUMS
We have three serums available that contain everything you need for a glowing and healthy complexion! These in conjunction with your Cleanser, Moisturiser and Exfoliant create the perfect well-rounded skincare routine!
HYALURONIC ACID SERUM
Our Hyaluronic Acid Serum contains 97% Hyaluronate, making it an extremely concentrated form of Hyaluronic Acid!
A trio of Hyaluronic Acid, Water and Radish Root make this Serum a powerful hydrating complex. Together they work in unison to effectively deliver moisture to the skin.
Because it holds up to 1000 times its weight in water, Hyaluronic Acid has an incomparable ability to provide all skin types with an immediate hydration boost, plumping and rejuvenating the complexion. Did we mention it's natural too! 
Maximise collagen levels

Prevents skin dehydration

Retains Skin Moisture
VITAMIN C BRIGHTENING SERUM
Our Vitamin C Brightening Serum is designed for assisting in brightening and tightening the skin complexion. Containing Kakadu Plum; an Australian native superfood along with Aloe Vera and Lilli Pilli which are brilliant for rejuvenating and improving skin firmness.
L Ascorbic Acid (Vitamin C)- vital molecule for skin health, brightening, lightening and a powerful antioxidant

Aloe Vera- healing and anti-inflammatory properties

Kakadu Plum- Australian native superfood, packed full of vitamins, minerals and antioxidants

Lilli Pilli- brilliant skin rejuvenating properties- high in vitamin c, improving skin firmness
REJUVENATION OIL
Our Rejuvenation Oil is a favourite in our Lust Community! It is a beautiful oil blend containing Rosemary, Vitamin A and Vitamin E to fight off free radical damage and encourage cell production.
Perfect for all skin types and is beneficial in reducing eczema, dermatitis and oily skin and as a beard oil; who would've thought.
Vitamin A- encourage cell production and growth

Vitamin E- restoring and smoothing of fine lines

Rosemary- beneficial in reducing eczema, dermatitis and oily skin
Together our Trio Serums along with your moisturiser, cleanser and exfoliant make the perfect skin treatment, working to improve the overall appearance and quality of the skin.
Shop our Trio Serum Bundle  
here
and if you are looking for a brand new skincare routine check out our Ultimate Skincare bundle
here
.