Lust Minerals Limited Edition 11-pc Brush Set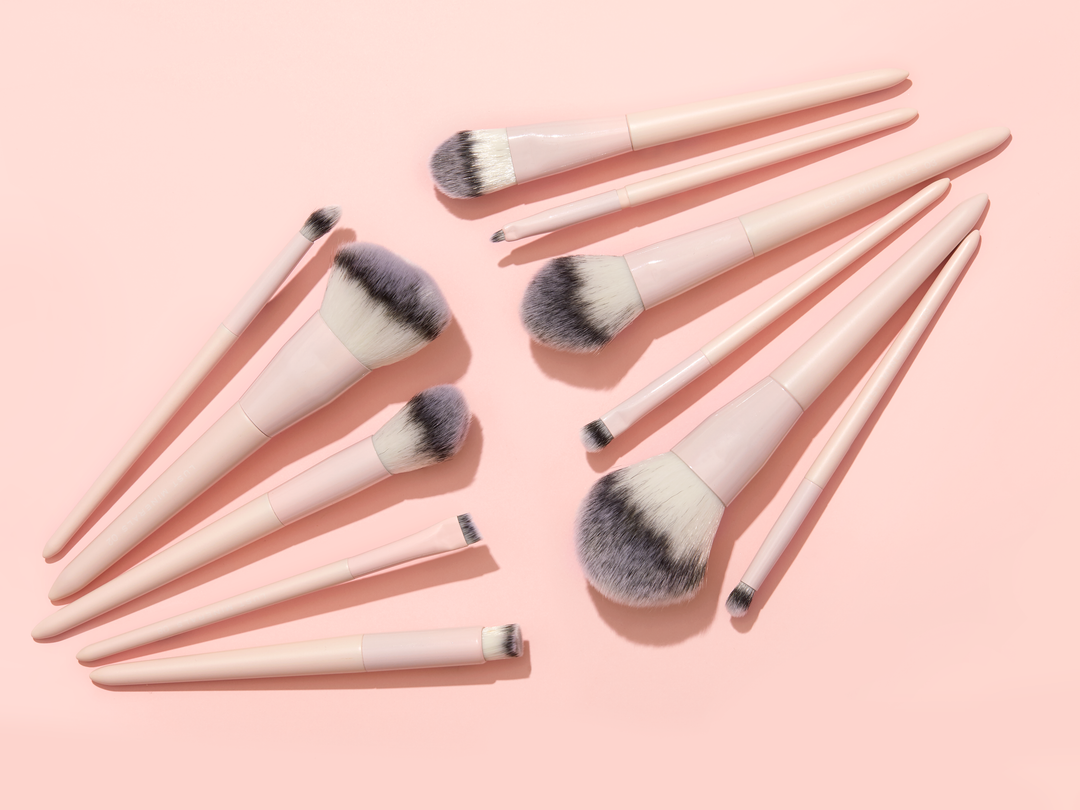 Lust Minerals has a treat for you!
Introducing the brand new Limited Edition 11-pc Brush Set.
We love making it easy for you to look and feel your best in any way possible. That's why Lust Minerals is giving away a must-have essential to make your makeup routine even easier.
Our Limited Edition Brush Set is a cult-favourite as this set comes with 11 brushes – all specifically designed to help you achieve a flawless look in minutes.
The Limited Edition Brush Set comes with:
LASH CLEANSING BRUSH (11)
If your lashes and brows need to be tamed, then this lash cleansing brush is for you. It's soft and gentle bristles will effectively remove any stubborn mascara and eyeliner build-up on your lashes.
A Lash Cleansing Brush is the perfect companion for removing dirt, debris and excess mascara from your lashes.
LIP BRUSH (10)
Lip brushes are your best friend when it comes to making sure your lip gloss and lipstick application are even and full coverage.
SMUDGE BRUSH (09)
Make your eyes stand out with dramatic eye makeup. A smudge brush will help you achieve that smokey eye makeup look in minutes. 
BROW BRUSH (08)
Outline and fill in your sparse areas with this brow brush. It is best paired with Lust Minerals Brow Dust Pressed. 
BLENDING BRUSH (07)
This blending brush is designed to blend out the eyeshadow for a smooth transition between your eyeshadow base and contour.
SHADOW BRUSH (06)
A flat shadow brush is a must-have if you love to experiment with dramatic smokey-eye looks. The brush picks up the product well and helps you to apply shadows evenly across your eyelid.
FOUNDATION BRUSH (05)
Tapered foundation brushes are designed for precise, controlled application of liquid and cream makeup.
HIGHLIGHT BRUSH (04)
This tapered highlight brush will highlight the top of your cheekbones, the bridge of your nose, the center of your forehead and Cupid's bow.
BLUSH BRUSH (03)
The smooth dome shape of this Blush Brush is designed to help you quickly and easily apply blush anytime you want.
BRONZER/CONTOUR BRUSH (02)
With its high density bristles, angled head, and easy-to-hold handle, this bronze/contour brush allows for precise application of your favorite bronzer without fear of streaky looks.
FLUFFY POWDER BRUSH (01)
Create a flawless look with this fluffy powder brush. It will flawlessly blend the powder and pigments for an even smooth base
Did we mention you can get this brush set for FREE when you place an order over $250 this Black Friday sale?
This deal won't last long so be sure to get in quickl! You can get your clean beauty items at a discounted rate, plus, you can get an 11-pc brush set as a complimentary gift for a limited time only.
Your journey to clear, healthy skin starts here. Shop the Lust Minerals range today. Be sure to follow us on Instagram so you don't miss out on all things clean beauty!
Want to join the clean beauty club? Click here to join our clean beauty community today. 
Learn more about your skin with a skin consultation! Click here to speak with one of our skin experts today.
Stay in touch with us 💛
Instagram: @lust__minerals 
Website: https://lustminerals.com.au/
CEO & Founder Stacey Hollands: @stacehollands