Inspiring Women || The Real Simone Marie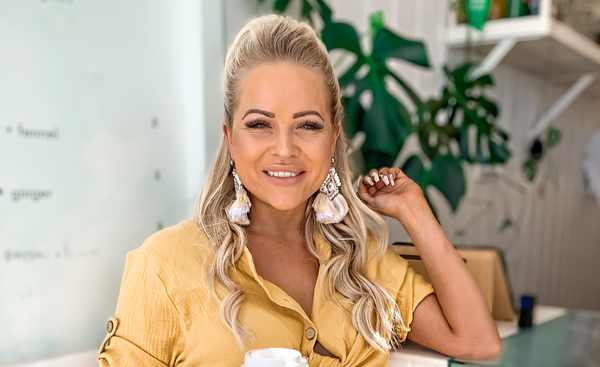 Hi and welcome to the first post in our series of "Inspiring Women"!
Over the next few months the Lust team will be interviewing women from all different backgrounds, living different lives, with different success stories but with one big thing in common, they are all strong, empowered and REAL! We look up to them and want to share our Lust Girl Crushes with you!
"I love it when women love themselves.
I love it when women are learning to love themselves.
I love it when women inspire other women to love themselves"
[/caption]
Our first Inspiring Woman is already well known to most of you, our Lust Ambassador, Simone Marie.
Simone currently resides in Cairns and has an instagram following of almost 20,000 women that, like us, find her refreshingly real & uplifting. She makes no secret that she battles Anxiety - and its the way she pushes through those hard days and keeps a positive, healthy and happy outlook that makes her someone to look up to. We love following her life journey & reading her posts that promote Kindness, Body Positivity and Self Love.
Simone, tell us a little about yourself!
I have always called Perth home despite my heritage, which has a splash of everything! Throw Cairns into the mix and that's where my husband Jamie and I are now for a short time.
I stepped straight out of high school into the corporate world where my high heels and I called Perth's CBD our runway from Monday through Friday. However, I eventually left the corporate world behind to follow my heart. I would be lying if I said that it hadn't been a journey.
At 32 years of age, I finally learnt to flourish as myself and own who I am. I have always tried to uplift others and with that I decided I'm going to share my ride, my message around mental health and what makes my heart sing. Because there is nothing better in this world then women empowering women and women feeling genuinely good from the inside out. 
What inspires you?
Helping as many people as I can and helping make a difference in anyone's life.
What has been your greatest challenge since starting out as an influencer and what did you learn from it?
Not everyone is going to love you or love what you share and do.  So instead, I stand tall and focus on what I believe in and the many, many beautiful connections I have made.
Tell me about your proudest achievement this year so far
So many!! I really feel this year I have stepped into my story and truth even more.  I am so proud of continuing on in my journey and talking openly about my story and experiences.  I would also have to say attending the Fitness Expo for Lust Minerals was a massive 'fist pump' moment not professionally but personally.  It taught me that I do have worth and there is a place for me here on this beautiful earth to help make a contribution and positive impact.
What goals do you have for the rest of this year?
Keep growing, learning and evolving on a personal level.

Who is someone that has been a great inspiration to you and how?
Tony Robbins and Abraham and Esther Hicks. I just feel because of them I have learned that we each have something to offer in this lifetime. Its okay to make mistakes and to keep aiming higher and higher. Taking massive action and projecting what we want for ourselves, even if its out of our comfort zone means a massive outcome. Believe, trust and have faith.
Do you have a favourite Lust Minerals product? 
Oooo! So many! I really love a few! I love the Rejuvenation Oil, Stick Foundation, Loose Mineral Powder, Pressed Powder, Bronzer 03 and Blush in Shade 14.
Do you have a favourite quote and what is it?
"Self love to me is an unconditional love of loving you for you, its accepting yourself and embracing the person you really are"  (Simone Marie)
How would your friends describe you?
Very funny, caring, very giving, supportive in anything they set their mind and hearts to. I'm very good at remembering their special and important dates for things they have coming up and always bringing a positive touch to their lives.
How do you keep your emotional health in check?
I take time out for me when I know I have reached full capacity.  If I am feeling overwhelmed I remind myself its okay if the day didnt go to plan or its okay to switch off - this only makes me human right?? We cant help others if our own cup isn't filled up - I love to dance to music, read a book, treat myself to a lunch date, go for a beach walk, meditate, watch the world go by at a local cafe where I live along the beach or bake and cook in the kitchen.
What are your 3 makeup must haves?
Hydrating primer, a coverage that can be worn as less or more and still look fabulous and a good bronzer.  All three of these are by Lust Minerals!!
Do you have a favourite fragrance?
Si by Giorgio Armani
Is what you wear important to you?
Absolutely, I always wear things that are going to make me feel good within myself.  I love wearing clothing that makes me feel feminine, chic and beautiful. I used to always think I had to wear what everyone else was wearing otherwise I wouldn't fit in, but as I have grown older - I have now learned its important to wear what makes you feel good.
Is taking care of your hair and skin important to you?
Yes definitely, I have always taken good care of my hair and skin.  Having good skin and hair makes me feel good within myself.  
Is physical activity important to you?
Yes it sure is. I make sure I am moving my body almost every day of the week but I also like to have a couple of days where I give my body time to recoup and rest. For me, exercising is more than just working out, I have found exercising regularly mostly impacts how I feel mentally within myself.  I feel more positive, less anxious and I feel I have more zest for life.  Some days I dont feel like training, so I do a little self talk to myself where I work out: Am I being lazy? or Do I need a day off? I am very in tune with my mind and body that I don't believe in setting an unrealistic goal or putting an unrealistic high expectation on yourself that you can't possibly do.
Whats your favourite cheat meal?
I really love Thai, Italian and Indian food but my weaknesses and biggest loves are also hot chips, chocolate, burgers and cheese haha! I have always loved my food and this is thanks to my beautiful mix of family heritage.  
What 5 tips can you give to someone beginning their fitness journey?
1) Start off small - where you set yourself out to do 2-3 times of physical exercise a week.
2) Dont compare your starting journey to someone else that has been training consistently for a long time.
3) Get excited! Positive self talk is key to kicking off your fitness journey on the right foot.
4) Set your workout clothes out the day before, so its the first thing you see when you wake up especially if you are training in the morning.
5) When you achieve your workouts for the week, dont forget to celebrate your wins. I have found this extremely important especially in those first few weeks and months when starting something completely new for yourself, we can easily be sidetracked and possibly want to give up.
How does exercise impact your mental health?
I feel a lot more positive within myself and I feel happier. I feel that by working out or going for a walk or run makes me feel like I'm kicking my goals that bit more. Especially if its exercising first thing in the morning. I have recently started incorporating walking and running into my morning routine by getting up that little bit earlier and it has made the world of difference in my eyes. I dont feel as congested with my thoughts, I feel more self love, more proud and much more belief in myself that I can really do what I set my mind too.
---
Want to keep up with Simones journey and continue to be inspired by this gorgeous woman? Find her on Instagram and Facebook at @therealsimonemarie.