GET ON TOP OF YOUR MASKNE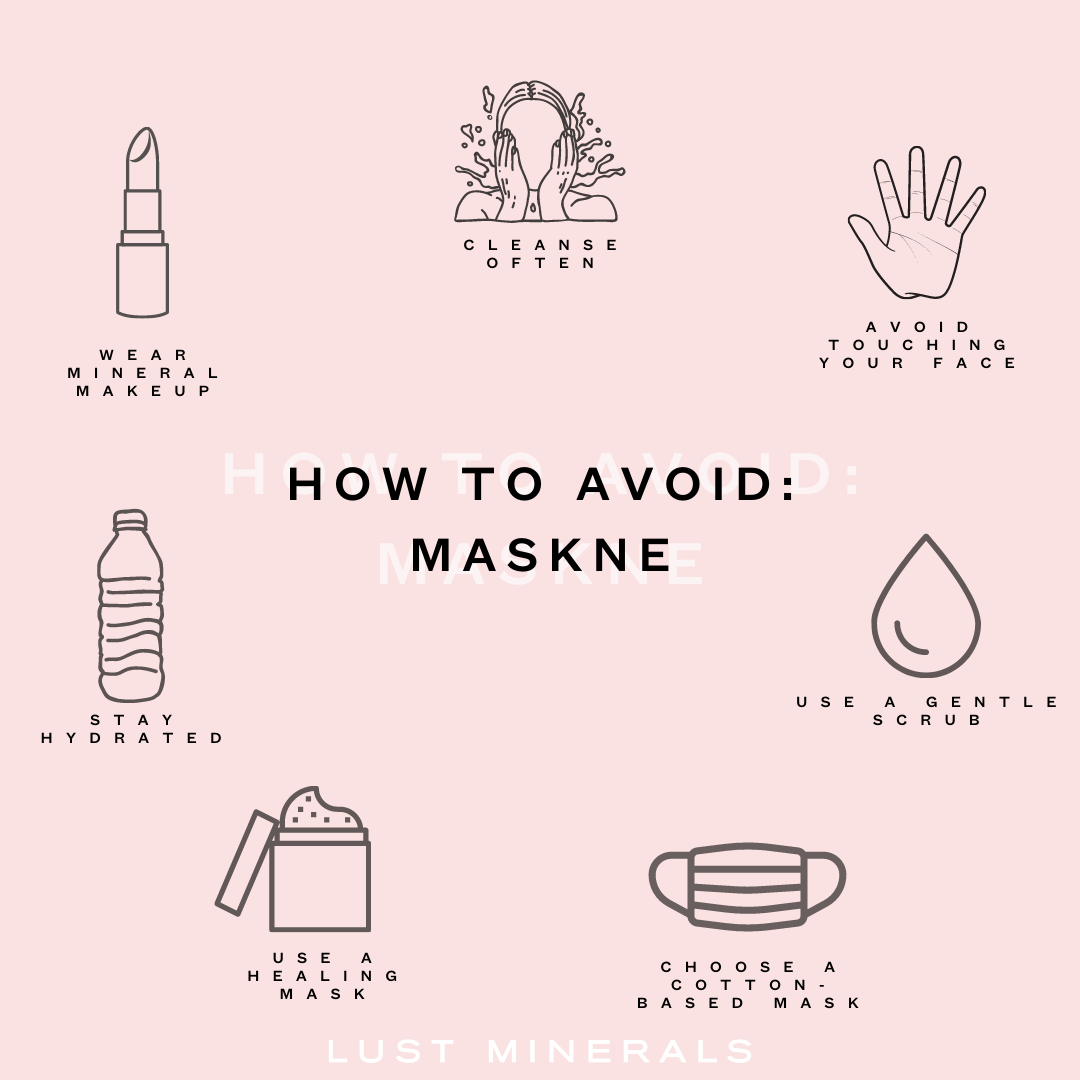 Maskne getting you down? 
If you have noticed more breakouts since wearing a mask, we can assure you that you are not the only one.
WHAT IS MASKNE?
Maskne is caused by the constant friction that is happening between your skin and the mask. The mask is constantly rubbing up against your face and therefore is trapping oils and bacteria which are causing those dreaded breakouts. 
Here are a few simple steps you can follow to help you to navigate through our new norm' of wearing face masks without having to sacrifice the health of your skin.
MINIMISE HEAVY MAKEUP PRODUCTS
Firstly, wearing products underneath your mask that are breathable and that won't clog your pores will be a game changer. Unlike Conventional makeup, Mineral Makeup is completely non-comedogenic so it will allow your skin to breathe whilst being trapped in the close environment of your mask. Mineral Makeup offers a lightweight, natural feel and is enriched with skin- loving ingredients that help to balance your skin, rather than break it out so if you don't want to go completely bare face, opt for Mineral based instead. 
Click here  to shop our Mineral based products.
Click here to redeem a FREE virtual colour match.
CLEANSE OFTEN
Cleanse every morning and don't forget the double cleanse of an evening. Good face hygiene is crucial to prevent maskne. This will help to remove any build up of oil, dirt, sweat and any other unwanted impurities. 
GENTLE SCRUB
Exfoliate 2-3 times a week with a gentle scrub. Exfoliating your skin will help to clear the skin of unwanted excess oils, unclog pores and remove any build up of bacteria and dead skin cells.
HEALING MASK
Combat your maskne with a face mask, ironic right? Well yes, we are referring to the OG's of face masks… A healing mask will help to calm and soothe any active breakouts as well as nourish and put some love back into your skin. Apply after exfoliating. 
STAY HYDRATED
Hydration is key ladies and gents, especially when your skin is under stress. Ensure you keep your daily water intake up and use a moisturiser daily after cleansing. 
AVOID TOUCHING YOUR FACE
t's that simple, right? The number one rule of acne fight club is to avoid touching your face. Touching your face will cause the bacteria to spread and will cause additional unwanted breakouts. 
P.S. Don't forget to wash/ sanitize your hands!
CHOOSE A COTTON-BASED FACE MASK
Cotton-based masks tend to work better because they are softer, which means they will create less friction and irritation to the skin than a disposable face mask. In saying that, it is super important that you are regularly washing your cotton mask to prevent any bacteria build up. If you do prefer to wear a disposable face mask, ensure you are only using it for one wear and then changing. 
In the market for a new cotton face mask? Shop here. 
Whilst it is important to wear a mask to protect the community, what are you doing to protect your skin? 
Ready to take control of your maskne? Click here  to receive a FREE personalised skincare routine.
Follow the below steps to redeem a FREE Lust Minerals Signature face mask on your next order. 
Steps to redeem:
Spend a minimum of $10.00
Add the Lust Minerals Signature Face Mask to your cart
Apply the code MASKNE at checkout 

Follow us on Instagram for more beauty/ health related tips.