FAQS: The Comprehensive Guide to Lust Minerals Products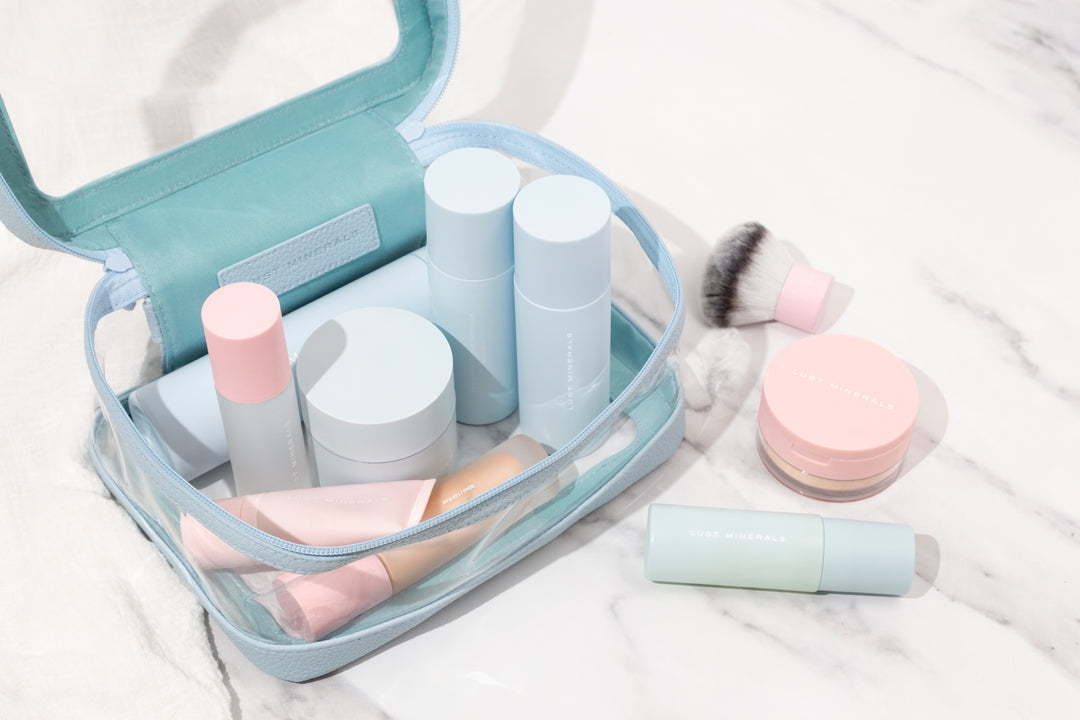 Welcome to Lust Minerals, your go-to source for clean and high-performance skincare, makeup and body products. 
At Lust Minerals, we want your shopping experience to be as easy and informative as possible and that is why we've put together this FAQ guide to support you.
About Lust Minerals
Lust Minerals is an Australian made and owned clean beauty brand that is committed to educating, empowering, and inspiring men and women all over the world to live a cleaner lifestyle. Lust Minerals was founded as whilst there were plenty of clean and natural based products out there, few married clean and high performance to deliver real results for customers. 
Over our 8+ year journey, Lust Minerals has become an accessible and affordable brand for individuals who want to take back control of their health & well-being through clean beauty products, and limit exposing their skin and their body to unnecessary chemicals and toxins. We know that there is no need to sacrifice your skin, your health and the environment to achieve results. 
At Lust Minerals, we put our utmost attention to every detail, even in our packaging and shipping. We use packing peanuts that are completely biodegradable to ensure that our products will reach you in a perfect condition whilst also being environmentally friendly. We aim to reduce our carbon footprint without compromising the quality of our products and customer satisfaction. Know more about our sustainability efforts here.
If you're curious to know more about Lust Minerals, feel free to check out our "Get to Know Lust Minerals" blog to learn more about the brand.
Our mission is truly to empower you to take control of your well-being and achieve the healthy, radiant skin that you deserve. We know that your future self will thank you for making this necessary change. 
Is Lust Minerals MAKEUP safe for all skin types?
Lust Minerals makeup is formulated with high-performance, clean, vegan, cruelty-free, and mineral-based ingredients making it safe to use for all skin types. It is formulated with superfood and vitamin ingredients to act as a multivitamin pill for your skin to ensure it is getting the nourishment it deserves. Our Powder Foundations contain SPF15+ as they are made with zinc oxide that acts as a natural sunscreen. Did we mention our powder foundations are also sweat and water resistant? 
Our foundations in general offer a buildable full coverage finish whilst also being lightweight and breathable, so you can feel confident wearing it for long periods of time knowing that it won't clog your pores. Learn more about our mineral makeup here.
Is Lust Minerals SKINCARE safe for all skin types?
Lust Minerals skincare is formulated with nothing but skin-loving ingredients and is free from toxic chemicals like parabens and SLS, so it is safe for all skin types.  It is formulated with high-performance, clean, vegan, cruelty-free, and naturally derived botanical ingredients making it safe for even the most sensitive skin. 
Is Lust Minerals ideal for acne-prone skin?
Lust Minerals is designed to work as a multivitamin for your skin.  With the powerful blend of superfoods, vitamins, and minerals, our products are designed to soothe and heal the skin from the inside out. 
Our products aim to work as a solution for your skin concerns with the nourishment they provide, and not just a cover up. With continued use, you can expect to see an improvement in your overall skin health. 
What is the best mineral makeup for acne-prone skin
Choosing the best mineral makeup would depend on your skin needs, goals, and preferences.
At Lust Minerals, we offer a wide range of mineral makeup products that are formulated to be ideal for all skin types, even for breakout-prone skin. Our mineral bases, for example, are all breathable, non-comedogenic, and are infused with soothing and nourishing ingredients so they won't clog your pores and cause breakouts.
Looking for suggestions? We recommend trying our Mattifying Gel Primer to get started. It is enriched with Rose Extract, Grapefruit and Witch Hazel to help soothe and heal sensitive, problematic and inflamed skin. This Primer will make the Liquid Foundations and Mineral Powder Foundations last longer whilst smoothing out the skin surface, fine lines and pores. 
For more reference, we suggest that you reach out to our customer support team for a FREE Colourmatch or Skin Consult as we are always here to support from 7am until 10pm, 7 days a week. 
Is Lust Minerals makeup ideal for aging skin?
Lust Minerals is suitable for all skin types and all ages.
It is infused with hydrating ingredients that your skin needs to look and feel its best. 
Most Lust Minerals products are enriched with natural sunscreen to protect your skin from UV rays and environmental stressors that can cause premature aging. Sun exposure is one of the leading causes of premature aging, and it's essential to protect your skin from harmful rays to keep it looking youthful and healthy. 
Not sure where to start? Our customers can never go past our Clean Tinted Sunscreen +Hyaluronic Acid - SPF 50, a hydrating sunscreen that offers natural coverage and high UV protection.  
How do I know what products to choose for my skin?
We've taken the guesswork out of your shopping experience. Our clean beauty experts are here to assist you.
Take advantage of our FREE Colour Match and Skin Consultation to help you find the perfect products. Alternatively, simply click the live chat icon on our website or our App for instant support. Our team of highly trained Skin Specialists are available from 7 am until 10 pm Monday to Sunday.
How do I use my skincare and in what order?
You can follow the process below in accordance with the products you have, both morning and evening. 
Lust Minerals tip: We recommend applying your skincare products with your fingertips. Gently massage each product into the skin and allow it to settle into the skin before moving to the next step.
To begin your routine, cleanse your skin thoroughly with warm water using either your Calming Cream Cleanser or Superfood Gel Cleanser. The consistency of these products will soften with the water as they continue to work their magic. 
Cleanse the skin twice in the evening if you are wearing makeup to ensure all makeup and daily pollutants have been removed from the skin.
Apply Hyaluronic Acid Serum to damp skin then follow with the Vitamin B Serum and your Vitamin C Brightening Serum. Follow with the Rejuvenation Oil in the evening only. 
Lastly, apply the Peptide Cream Moisturiser or Probiotic Cream Moisturiser to the skin.
The AHA Exfoliating Lotion is a liquid exfoliator. This is suitable to be applied 2-3 times per week. Exfoliate your skin with this by applying in the evening after you cleanse your skin. Leave the solution on the skin for ten minutes then you can choose to wash this off and continue your routine starting from your serums onwards or, you can leave the AHA Exfoliating Lotion on your skin for a thorough exfoliation treatment to wake up with bright, smooth skin.