Discover Your Perfect Match: The Ultimate Guide to Using Lust Minerals' Perfect Match Pack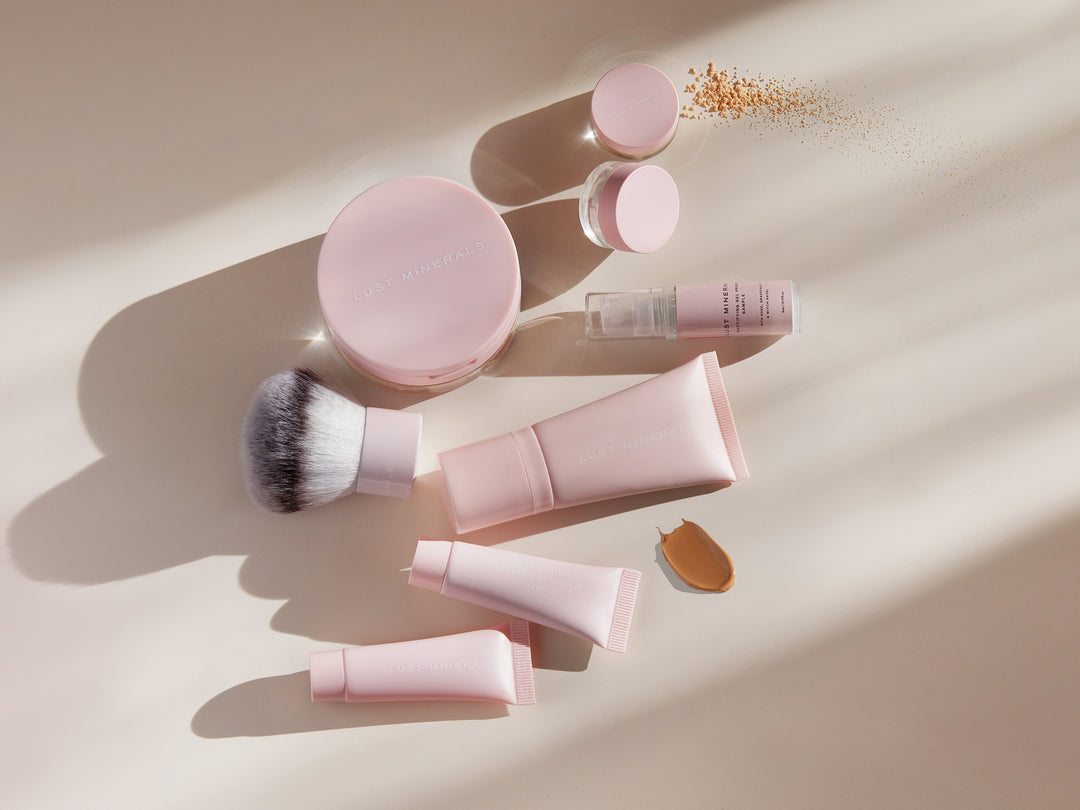 Are you tired of the endless struggle to find the perfect makeup shade when shopping online? Here at Lust Minerals, we get it. We have carefully curated the ideal bundle you've been seeking, making online shopping and the transition to clean beauty that much easier. Introducing our Perfect Match Pack – the secret to effortlessly transitioning to clean beauty, saving money, and achieving flawless and healthy-looking skin.
 The Perfect Match Pack
We created the Perfect Match Pack to help reduce the uncertainty, and guesswork around purchasing makeup online for our community. 
Inside the Perfect Match Pack, you'll discover our Lust Minerals formula to achieving a natural, full coverage and flawless base:
Pro Finish Liquid Foundation: Our Best-Selling cleaner alternative full coverage liquid foundation is designed for all skin types. Packed full of superfoods, this foundation is like no other and is designed with the health of your skin in mind. It feels like satin on the skin, and will nourish and protect your skin with added superfoods and SPF 20 protection.
Mineral Loose Powder Foundation: A hydrating and luminous Mineral Loose Powder Foundation designed to provide flawless coverage and SPF 15+. With added Vitamin E, this powder foundation leaves the skin feeling silky soft and hydrated. A bonus is that it is water and sweat-resistant, so perfect for all-day wear, no matter the occasion! 
Mineral Primer - Trial Size: Your canvas for creating a flawless makeup look. This velvety primer is designed for normal to dry skin types and is infused with botanicals to prep the skin for a flawless base. It's silky, lightweight and also assists with helping to minimise fine lines and prolonging your foundation. -
Mattifying Gel Primer - Trial Size: Perfect for those with sensitive, oily or breakout-prone skin. This creamy and lightweight Primer is designed to prep your skin for a flawless and long-lasting base. It offers incredible healing benefits to nourish and soothe the skin.
Pro Finish Foundation - Trial Size: To test and adjust your shade effortlessly.
Loose Powder Foundation - Trial Pot: To test and adjust your shade effortlessly.
HD Setting Powder - Trial Pot: Set your makeup for a flawless finish. This setting powder helps to control excess oil and shine. 
Pro Beauty Blender: Achieve a seamless application.
How the Perfect Match Pack Works
Hassle-Free and Risk-Free: 
One of the standout features of our Perfect Match Pack is the peace of mind it offers. We provide a FREE VIRTUAL COLOUR MATCH via live chat on the Lust Minerals website, ensuring that you select the right shades. Enjoy FREE SHIPPING and FREE SAMPLES with your order. This allows you to try your sample shades first to see if they are just right for you. If by any chance your shades aren't a perfect match, our FULL-SIZE EXCHANGE policy has you covered. We'll send you the correct shades, free of charge once we have received the unused full-size products back at our HQ - it's that easy! 
 If it is a perfect match, then you have the full-size products right there ready to enjoy, saving you the back and forth of placing multiple orders with samples first, and then committing to the full size! 
 Say goodbye to the uncertainty of online makeup shopping and embrace the clean beauty revolution with Lust Minerals' Perfect Match Pack. It's the ultimate bundle that simplifies your transition, saves you money, and empowers you to look and feel your best while making conscious choices for your skin and the planet.
 For those who prefer a visual guide, we've created a comprehensive YouTube tutorial that demonstrates how to use our Perfect Match Pack for a flawless, clean beauty look. Watch the video below to see it in action:
 Ready to embark on your clean beauty journey?
Contact our team via live for a FREE colour match and purchase your Perfect Match Pack today. Your flawless, healthy-looking skin awaits!
 To stay up to date with Lust Minerals, follow here.