BECOME YOUR OWN INSPIRATION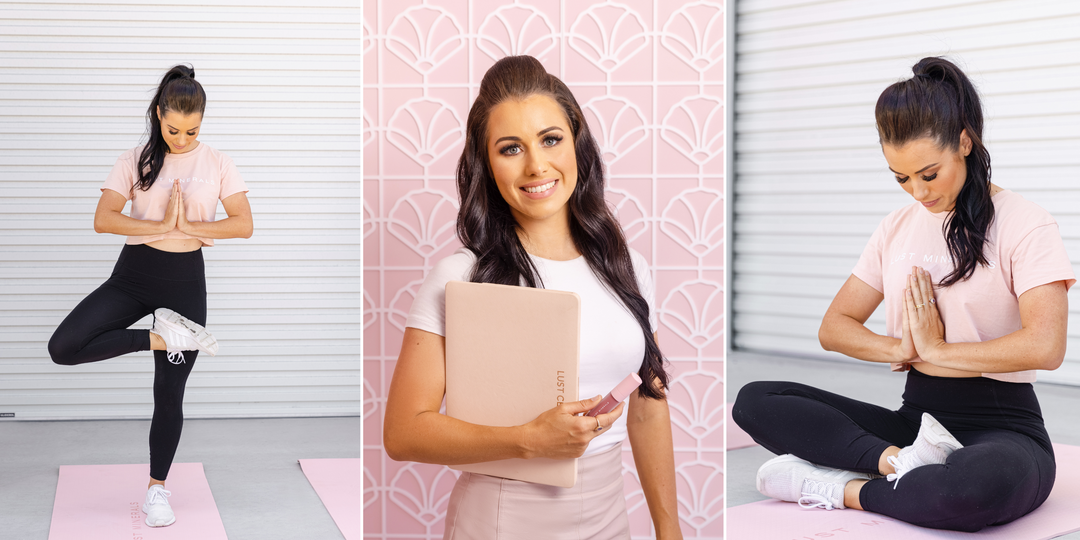 Whatever goal you are after, being your own inspiration means showing up for yourself and also being patient and giving yourself grace when you need it. Change doesn't happen overnight, but it does happen when you are passionate about the person you are doing it for: you.
You are the only one who knows what you are truly capable of and how willing you are to push yourself.
So, it makes sense that you are the only person who can change your mindset and promote change in the areas of your life you want to improve. You must stop looking and comparing yourself to others to ignite motivation. Instead redirect your focus inwardly.
Our CEO Stacey Hollands is passionate about personal development, inspiring the world and those around her to live their happiest, healthy life. The team at Lust HQ are inspired by Stacey's lifestyle and what she has built for herself. Not just within business, but family values, friendships and self-worth. 
We have asked Stacey to give us her 3 most powerful ways on how to inspire yourself and live your best life. Here is what advice she gave us- 
 1. GET CLEAR ON YOUR GOALS- SHORT TERM AND LONG TERM.
"What do you want out of life both short term and long term? Understand your core values. Reverse engineer your goals backwards to achievable daily or weekly goals." 
Clarity is important when it comes to goals. Setting goals that are clear and specific eliminate the confusion that occurs when a goal is set. Challenging goals stretch your mind and cause you to think bigger. This helps you accomplish more. Leaving you inspired. 
"I personally thrive on being close to the water, so I set aside 1 hour a week before work to have an hour of power on the water to think of new big ideas for Lust and what we can offer the world". 
Stacey being clear on her goals has allowed her to cut her learning curve in half and take the necessary steps to get to where she is now. 
2. PRACTICE DAILY GRATITUDE.
The benefits of practicing gratitude are nearly endless. People who regularly practice gratitude by taking time to notice and reflect upon the things they're thankful for experience more positive emotions, feel more alive, sleep better, express more compassion and kindness, and even have stronger immune systems. 
"When you show gratitude every single day, the universe gifts you with what you want."
3. REINVENT YOURSELF. 
"Pick 5 new habits you want to adopt and 5 old habits you want to ditch." 
You are in control of you and your life. I know this sometimes can get lost in the midst of work and commitments but you have a duty to control what happens in your life.
Live a fulfilled life of purpose and continually reinvent yourself as circumstances in your life change. Reflect your growth by understanding that nobody stays the same person forever and there is no reason you should either.
"Consider your life as a book. Whatever the next chapter has in store is completely up to you."
Stacey's top book recommendations:
- Atomic Habits by James Clear
- High Performance Habits by Brendon Burchard
- Limitless by Jim Kwik
Follow Stacey on Instagram to join her journey and everyday life tips. 
Follow us on Instagram for more beauty/ health related tips.
Click here to shop our Mineral based products.
Click here to redeem a FREE virtual colour match.