Christmas Must-Haves for Clean Beauty Lovers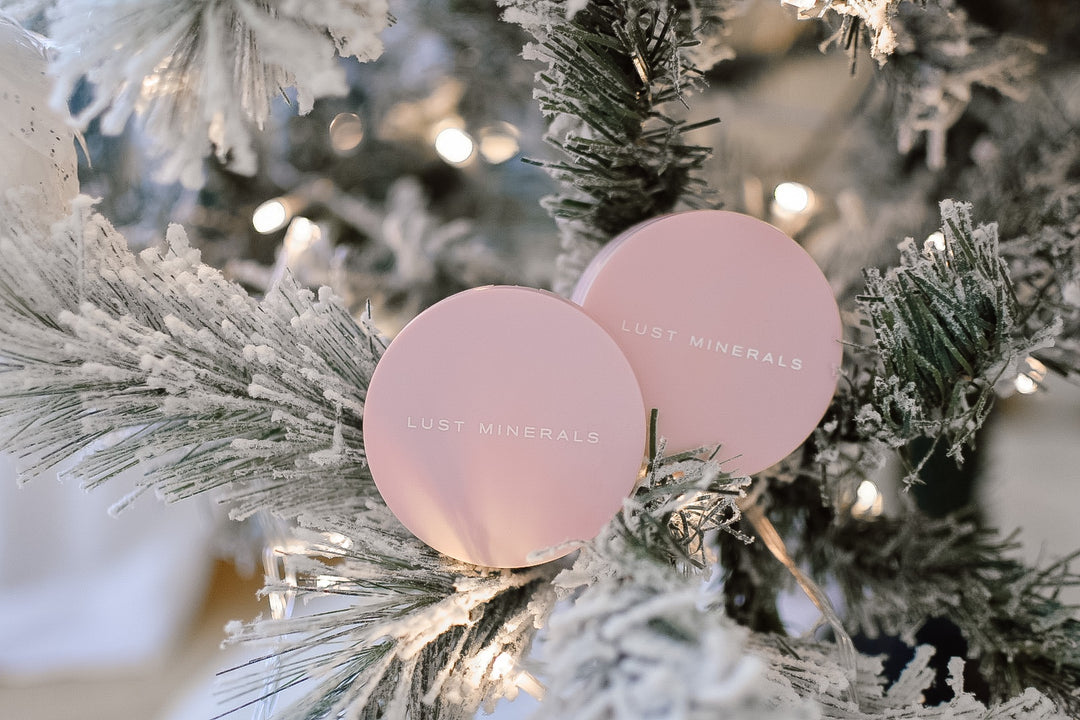 Make someone's Christmas extra special this year by giving the gift of clean beauty with Lust Minerals. 
We have gathered some of our top performing products, including some limited edition Lust Minerals items, plus have incorporated some gifts from some of our favourite Australian Brands to create the perfect gift bundles for you and your loved ones this year. We are all about making the festive season extra special and there's no better way to do so than with our Christmas Gift Sets. 
Did we mention these Christmas Gift Sets are all under $200? See why our customers are loving them below! 
The perfect gift with all of your self-care essentials. The Lust Minerals Gift Hamper features some of Lust Minerals' best-selling makeup and skincare products such as:
This Primer is hydrating and velvety smooth. It is infused with botanicals to prep your skin for the most flawless base.
Spending some extra time at the beach this Summer? You need this product! Get long-lasting, sweat proof protection with this multi-tasking tinted zinc based sunscreen. Infused with Hyaluronic Acid, this all natural SPF will hydrate and nourish your skin whilst providing a light coverage and glow to the skin. 
A cult favourite product - this multitasking Solution can be used as a daily serum or overnight mask to decongest and break down dead skin cells to leave you with a brighter, and blemish-free complexion. Perfect to achieve those new year, skin goals!  
Need an instant hydration boost? This highly concentrated Hyaluronic Acid Serum contains 97% Hyaluronate to lock in moisture, leaving your skin feeling smooth and radiant. The key to glowing skin is in this product! 
Looking for a sulfate-free cleanser? This gentle yet powerful cleanser is infused with an anti-oxidant blend of Parsley, Green Tea, Wheatgrass, and Alfalfa, and is designed to deeply cleanse and nourish your skin in every wash without stripping your skin barrier.
That's not all though! In this Hamper, you will also receive the stylish Steph Pase Planners - Mint Leather Notebook and Loving Earth's Dirty Rose organic chocolate! 
All these essentials for only $165
The perfect gift for the special men in your life! This bundle includes everything they need to kick start their skincare journey. This bundle includes: 
Your choice of Lust Minerals natural cleanser:
Re-energise your skin with this nutrient-rich cleanser that features an antioxidant blend of Parsley, Alfalfa, Green tea, and Wheatgrass. Gentle, yet effective. Best suited to those with normal - oily / breakout prone skin. 
Refresh your skin with this soothing cleanser. Infused with milk thistle to soothe and heal the skin, whilst offering a deep cleanse. This rich and creamy cleanser is soft and gentle enough even for those with sensitive, mature, and dry skin. 
Your choice of Moisturiser 
Restore your skin with the Probiotic Moisturiser. Infused with Agave Nectar, Tasmanian Blue Gum, and Lactobacillus to clean up the bacteria on the skin's surface leaving you with a healthy skin barrier. Its creamy like texture is lightweight, making it perfect for all skin types - especially for oily and sensitive skin. 
Achieve youthful-looking skin with this dreamy peptide-infused, moisturiser. Enriched with a skin-nurturing formula of Hydrolyzed Rice Protein, Hyaluronic Acid, Native Snowflower, Jasmine, Rose, and Chamomile to stimulate cell regeneration. 
Replenish and hydrate your skin with the Lust Minerals highly concentrated, Hyaluronic Acid Serum. This Hyaluronic Acid Serum is potent and gentle enough in delivering instant hydration to your skin. 
The Lust Minerals Rejuvenation Oil is incredibly potent to achieve maximum results, however is gentle to support those who are suffering from eczema and dermatitis. Enriched with Rosemary, and Vitamin A and E to soothe and heal your skin, this multitasking oil also encourages cell production to keep your skin fresh and healthy, The best part? You can even use it as beard oil, too!
Reusable and Sustainable. This is a great alternative to your cleansing wipes and is incredibly gentle and soft on the skin. With this at hand, you no longer need a chunk of harsh wipes in your travel bag. Each cleansing pad can be used for up to 200 washes. 
Matte Moulding Styling Clay
Groom and Style your hair with this strong hold, matte molding clay. Just apply a small amount of this clay and style your hair as desired.
That's not all… this bundle also comes with a limited edition men's travel case/toiletries bag so you can easily store all of your products in one place. Limited stock available so don't miss out! 
A match made in heaven for those wanting to kick start their clean beauty journey. 
It consists of a combination of trial and full size best-selling mineral makeup products, so you can sample the products and shades and see what is best suited to your skin before committing to all full size! 
Bundle Includes: 
This velvety smooth Mineral Primer is enriched with superfood botanical extracts designed to nourish and prep your skin for a flawless base. Perfect for those with normal to dry skin types. 
This silicone-free Mattifying Gel Primer is infused with a soothing blend of Witch Hazel, Rose, and Grapefruit extract to help soothe sensitive, inflamed, and breakout-prone skin. This Primer contains powerful superfoods and vitamins to offer healing and calming benefits for the skin. 
Experience our best seller - the Pro Finish Liquid Foundation. This full-coverage and long lasting foundation is packed with superfoods to nourish and protect your skin all whilst offering a flawless base. It's essentially a multivitamin pill for the skin and foundation in one… does it get much better? Well, it also comes with a built-in washable sponge for easy application.
We have also included a trial size of our Pro Finish Liquid Foundation. This is perfect if you're buying for friends or family and are not 100% sure on the shade. The sample product allows them to try this first, and if it isn't quite perfect, we can swap the unopened full size product to a more suitable shade at no cost! 
A dewy, Vitamin E enriched Mineral Loose Powder Foundation designed to offer a lightweight, flawless coverage. This product is also sweat and water resistant and contains SPF15 so is perfect for these warmer months! The perfect product to give your skin a luminous glow.  
Did we mention this makeup pack also comes with a trial-size of this Mineral Loose Powder Foundation and HD Setting Powder? 
Be camera-ready with this weightless HD Setting Powder. This translucent powder will lock in your foundation to ensure a long lasting wear and prevent any flash back. 
This vegan brush will be your go-to tool to seamlessly blend all your Powder products. Remember to dab into the skin, and not swirl to ensure the Minerals are binding well to your skin and to avoid moving your liquid products underneath around. 
You can get this makeup pack for only $149.
Mineral Primer and PRO Finish Liquid Foundation Bundle
Achieve a flawless base with Lust Minerals' best-selling Pro Finish Liquid Foundation and Mineral Primer combo. This power duo is our best seller for good reasons. Both the Mineral Primer and Pro Finish Liquid Foundation are liquid goodness and are loaded with superfoods and vitamins to nourish the skin, and to create the perfect, full coverage and long lasting base for your makeup. Want to see what the hype is all about? 
Want more affordable, memorable gifts to give this Christmas?
Our website is designed to make your gift-finding experience seamless. Head over to the Lust Minerals website to shop more gift options today. We've got gifts under $50, gifts under $100, and adorable Christmas tree ornaments that are filled with clean beauty products. There's truly something for everyone. 
Did we mention we are also upgrading all orders until the 23rd of December to Express Shipping for no extra charge? 
Don't forget that we can also colour match your friends and family! Simply send us a photo of them and we will recommend the perfect shade for them. With a 99% accuracy rate, your loved one will be able to open their gifts ready to wear Christmas Day. 
We are truly here to make this season as joyful and easy as possible. Happy Shopping 🤍🌲
Your journey to clear, healthy skin starts here. Shop the Lust Minerals range today. Be sure to follow us on Instagram so you don't miss out on all things clean beauty!
Want to join the clean beauty club? Click here to join our clean beauty community today. 
Learn more about your skin with a skin consultation! Click here to speak with one of our skin experts today.
Stay in touch with us 💛
Instagram: @lust__minerals 
Website: https://lustminerals.com.au/
CEO & Founder Stacey Hollands: @stacehollands