Celebrating 9 Years of Clean Beauty and Community: Lust Minerals' Birthday Month!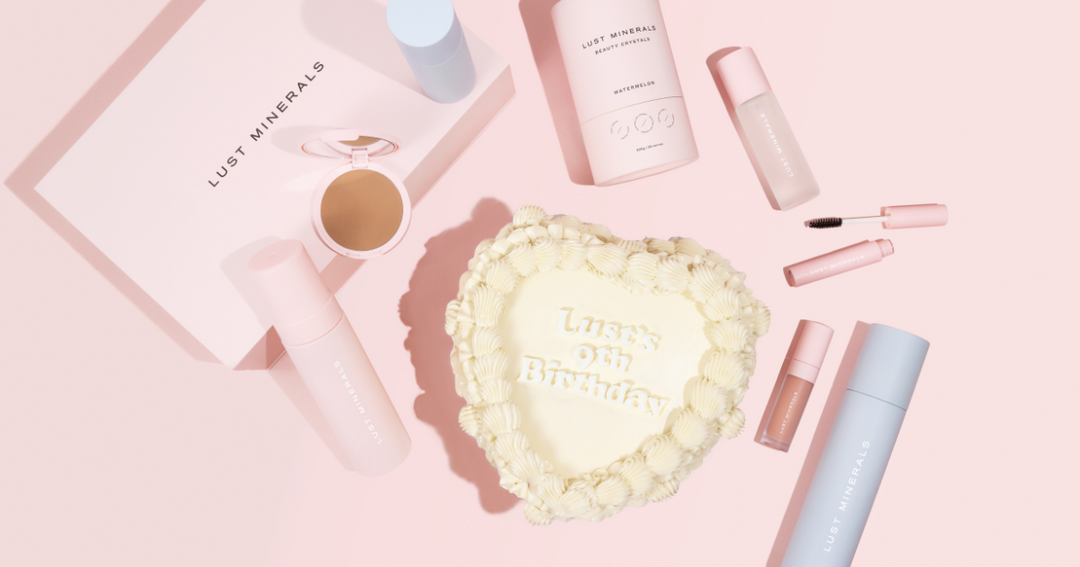 Lust Minerals is turning 9! Nine years ago, our incredible CEO, Stacey Hollands,  embarked on an incredible journey. It was a vision fueled by love, passion, and an unwavering commitment to revolutionise the beauty industry. For nine years, our dedication to providing high-quality, high-performance clean beauty products has remained at the core of our mission.
Join the Birthday Celebration! 
Turning nine is no small feat, and we couldn't have done it without our amazing community. That's why, this September, we're turning the spotlight on you, our incredible supporters, and showering you with birthday gifts all month long! 
We have an exciting lineup of surprises and activities planned for you! We're throwing a party and everyone is invited!
Here's a sneak peek at what's in store:
Birthday Mystery Boxes 
Choose between three fabulous Birthday Mystery Boxes: Makeup, Skincare, or a Mix of Clean Beauty! Elevate your clean beauty routine with handpicked surprises from our team (we know what's good, you can trust us). With over $100 in savings, each box contains 5 Full-Size mystery products PLUS 3 Bonus Gifts. Act fast, as these limited edition boxes are only available whilst stock lasts. Price: $149.00 but total value of each box is $249.00! 
Instant Scratch & Win (in EVERY single order) 
From September 7th 7am to October 6th 11:59pm, everyone will receive a gift simply by just shopping with us! Place an order with Lust Minerals during this period to receive an instant Scratch-To-Win ticket. We have over $24,000 in prizes from Lust Minerals and our partners, including LSKD, Steph Pase Planners, Elula Homes, Fayt the Label, Naked Harvest Supplements, Midnight Mischief, and Georgie Mane. Plus, there are over $100,000 in discounts and savings up for grabs. Don't miss your chance to try your luck today!
Vegan Beauty Crystals - Watermelon
Spend $200, and you can redeem Lust Minerals Vegan Beauty Crystals in Watermelon, valued at $52.00, for FREE! This ultimate beauty powder promotes overall health with its delightful fruity taste. Packed with 18 superfoods including Vitamin C to support collagen formulation, and pre and probiotics to help supercharge your immune system, it's perfect for the whole family! It's also pregnancy and breastfeeding safe. 
This is just the beginning of our birthday month celebrations. Stay tuned for exciting giveaways, exclusive sales, the return of beloved products, and much, much more. To ensure you're always in the know, join our Clean Beauty club for exclusive updates. Don't get FOMO - come join the party! 
At Lust Minerals, we're not just celebrating our birthday; we're celebrating you, our community, and the journey we've embarked upon together. Thank you for your unwavering support, and here's to another year of clean beauty and empowerment! 
Let the birthday festivities begin!