Are You Getting the Most Out of Your Liquid Illuminator?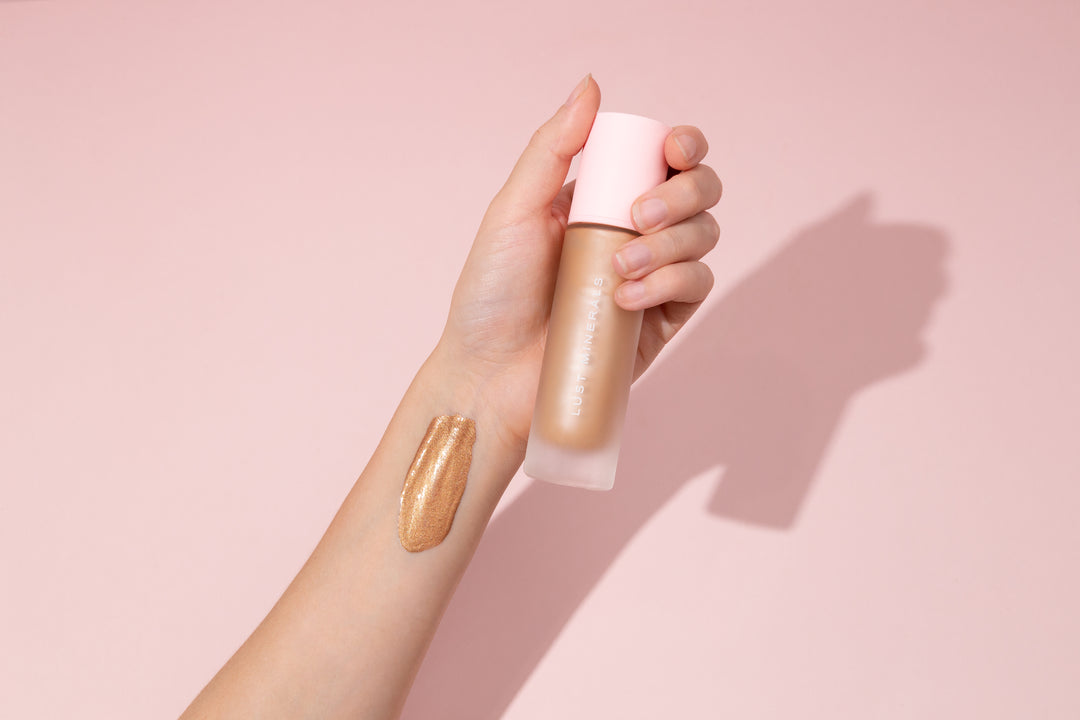 It's no secret that liquid illuminators are the key to achieving that gorgeous, ethereal glow. With all the types, colours, textures, and formulations of liquid illuminators on the market, it's tempting to buy them all. 
But do you really have to?  Not when you have an all-in-one liquid illuminator.
With an all-in-one liquid illuminator like the Lust Minerals Liquid Illuminator, you wouldn't have to buy every kind of liquid illuminator on the market. 
So if you're looking for an illuminator that you can use all over your face and body, you're in the right place. Whether you're looking to create an all-over glow, or just want to add some extra sparkle to your cheekbones, the Lust Minerals' Liquid Illuminator is the perfect choice for you. You can apply a few dots (because let's face it, a little goes a long way with this product) of the Illuminator on your highest features or mix it with the Lust Minerals Liquid Foundation for the ultimate, dewy look. 
This clean, vegan, mineral-based Liquid Illuminator is highly pigmented so a little goes a long way application wise. As this Liquid Illuminator doesn't contain any unnecessary nasties like toxins or chemicals, you don't have to worry about where you are applying it as it is safe to use on even the most sensitive skin types with the nourishing ingredients it contains.
It comes in three stunning shades; Champagne glow, Bronze glow, and Golden glow to match every skin tone. 
Have you tried our Liquid Illuminator? We've got some tips that will help you get the most out of your next application.
Tip #1: Use your Liquid Illuminator to customise your foundation  (AKA DIY Dewy Foundation)
If you want to switch up your foundation, try adding 2-3 drops of the Lust Minerals Liquid Illuminator to your liquid foundation. This will give you an all-over, radiant glow without it looking or feeling greasy.
Tip #2: Add the Liquid Illuminator to your Skincare Serum or Lotion (AKA DIY Glowing Skin Serum)
No make-up, makeup look? We've got you! If you want to go make-up-free for the day whilst maintaining the lit-from-within glow, you might want to consider adding a few drops of the Lust Minerals Liquid Illuminator to your favourite serum. This will instantly enhance and brighten your complexion whilst allowing your serum to give your skin the nourishment and love it deserves. 
Tip #3: Use your Liquid Illuminator as an all-over body glow
Heading to the beach and you want to keep your tan glowing? We've got the perfect tip for you!
The key to an all-over body glow is to apply the Lust Minerals Liquid Illuminator on all parts of your body where light hits. That means cheekbones, collarbones, temples, shoulders, arms, and legs if you want that Summer shimmer & glow without exposing your skin to the sun! 
Your journey to clear, healthy skin starts here. Shop Lust Minerals Skincare today. Be sure to follow us on Instagram so you don't miss out on all things clean beauty!
Want to join the clean beauty club? Click here to join our clean beauty community today. 
Learn more about your skin with a skin consultation! Click here to speak with one of our skin experts today.
Unsure which shade to choose, reach out to our professional customer support team today and they can support you. support@lustminerals.com.au 
Check out our Liquid Illuminators to unlock your goddess glow.
Stay in touch with us 💛
Instagram: @lust__minerals 
Website: https://lustminerals.com.au/