An Interview With Our Founder Stacey Hollands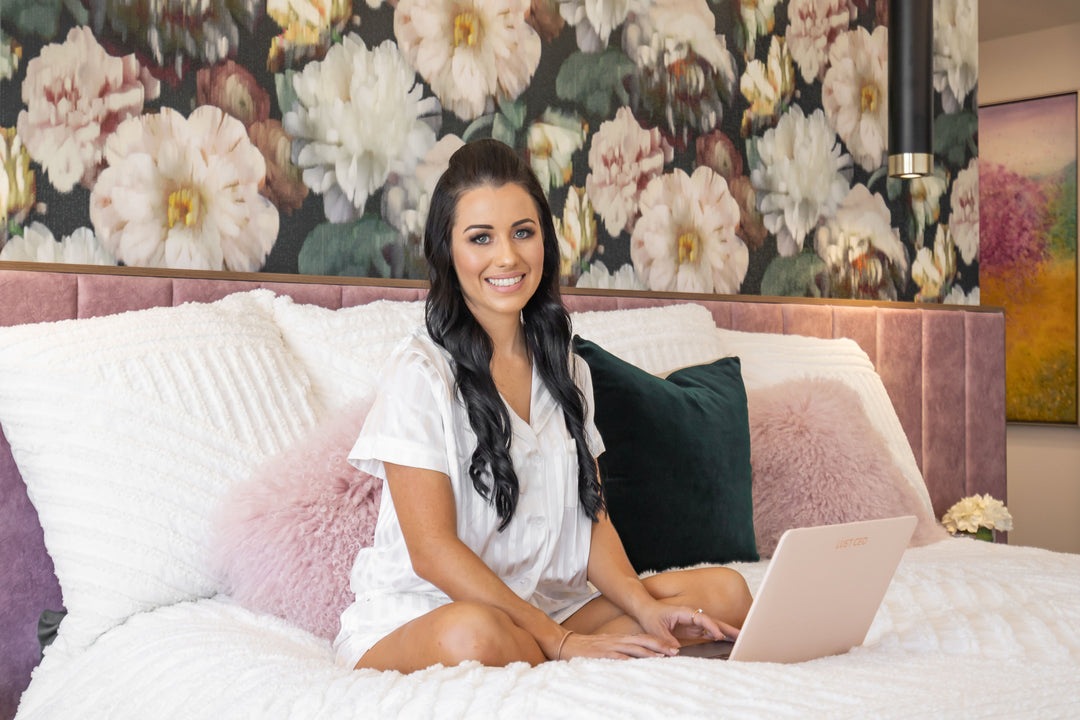 Conducted by Soak Society's Natalie Thorogood
Why was Lust Mineral Cosmetics created?
Founder, Stacey Hollands, created Lust Mineral Cosmetics to provide women with natural to full coverage, affordable, mineral makeup products which are good for the skin.
"Growing up I suffered with breakouts which, as a teenage girl, made me self-conscious," Stacey says.
Using good quality minerals weren't an option for Stacey, as they were expensive. However, she didn't realise at the time conventional makeup was making her skin worse and clogging her pores.
Stacey found her passion for makeup and beauty and decided to pursue her dreams and completed international diplomas in beauty, makeup and spa therapy.
"Being in the industry I found so many girls were like me, coming into the salon asking for my help with their skin," she says. "Little did they know using conventional chemical filled makeup products was in fact worsening their skin."
The inspiration behind Lust Mineral Cosmetics:
"When dad became ill with cancer I was still a little naïve as to the actual effects chemicals have on our bodies and our skin," Stacey says.
"After hours and hours of research I soon realised cancer can be prevented and it doesn't just 'happen'," she says. "Products and chemicals can all contribute to it."
Stacey considered herself and her family to be really healthy before learning the products she was applying to her skin, and using daily, were toxic. She then began getting rid of all the chemicals in her life.
"It was then I put my two passions together to create a toxic free, chemical free range of makeup which was also affordable. In the early days I had doubts… How can someone like myself create a range as big as I had in my dreams? Dad, being a business man at heart for his whole life, said 'darling, there's no dream too big- you've got this!'"
Stacey's favourite Lust product:
"I'd have to say the BB Beauty Balm Cream Foundation," Stacey says.
It's designed for mature and acne prone skin and is packed full of witch hazel, rose and vitamins. It's perfect for hydrating skin and calming inflamed skin.
Stacey's me-time ritual:
"Grabbing a coffee down the beach and just watching the water is a favourite of mine," Stacey says.  "I also try to squeeze in a bath using my favourite soaks from Soak Society at least once a week."
Unsure about how to look after your skin? Stacey's advice:
"The most absorbent part of the body is our skin and it is also the largest organ," Stacey says. "Using toxic free skin care and makeup products is so important to not only nourish and protect our skin, but to also prevent our bodies from absorbing 100s of different chemicals."
*Always cleanse morning and night.
*Exfoliate once or twice per week.
*Moisturise to rehydrate your skin after cleansing and before applying your favourite mineral makeup. 
A typical morning for Stacey Hollands:
"My days are a little different lately since having my 8-month-old little boy," Stacey says. "My alarm is set for 3:44am daily to squeeze in a quick personal training session before my busy day ahead. I always make my favourite green smoothie for breakfast, then I'm straight into responding to emails and packing orders ready for our first courier. People think I'm crazy getting up so early, but I find I'm 100 per cent more focused when I get up and get my body moving." 
Stacey's top 5 beauty and wellness essentials:
Lust's Loose Powder Foundation, as it has an SPF.
Vegan protein powder.
Coconut oil (for my hair and skin).
My BPA 2L water bottle (so I drink enough water).
My favourite cleanser (trialling some to add to our Lust range). Shhh…