6 Essentials For Your Best Summer Skin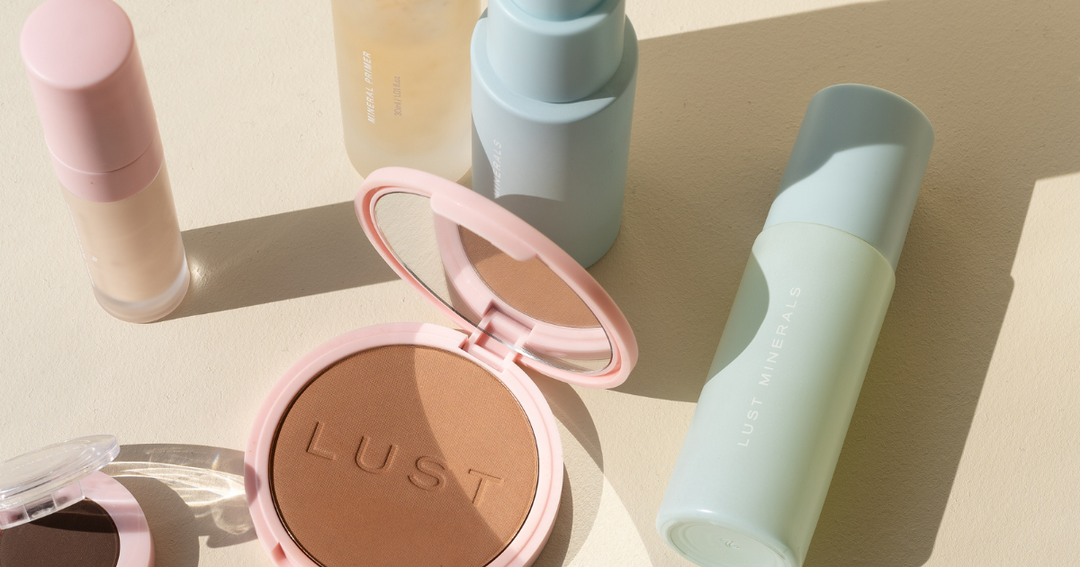 Step into the sun-kissed season with confidence and radiance as we unveil a collection of your new summer favourites. With the long-awaited warm weather arriving, it's time to protect, rejuvenate, and enhance your natural glow for those simple beach days, poolside lounging and sun-soaked adventures. 
Say hello to Summer with our thoughtfully curated list of essential products. This is your ticket to flawless, healthy skin and a vibrant glow with Lust Minerals.
1.0 Clean Tinted Sunscreen + Hyaluronic Acid - SPF 50
Our Clean Tinted Sunscreen infused with Hyaluronic Acid, is designed to provide UVA + UVB broad spectrum protection whilst achieving the perfect no makeup makeup look. Providing a light tint and glow to the skin with maximum protection, our hydrating sunscreen is your best friend all year long.  
2.0 Vitamin C Brightening Serum Complex
As we know, sun exposure can dry our skin, leaving it looking and feeling undernourished, flaky and rough. For an extra dose of radiance, we love to incorporate the Vitamin C Brightening Complex into our routine to reap the brightening benefits. This hero formula is enriched with Aloe Vera and Kakadu Plum (Australian native superfood) which helps to calm and hydrate skin complexion. 
3.0 Pro Finish Liquid Foundation
Perhaps you're going for day drinks with the girls, our best-selling Pro Finish Liquid Foundation is satin on your skin with medium to full coverage. This product also incorporates SPF 20 for added protection against those summer rays. You can pair this with our Mineral Pressed Powder Foundation or Loose Powder Foundation for extra coverage and SPF if desired. 
We heard that mermaid core is upgrading in Summer 2024… think dewy, hydrated, glowing skin. A liquid illuminator is key in achieving this look. This product can simply be mixed with just a primer or your favourite liquid foundation to boost luminosity. 
Now, we all secretly love looking a little rosey after a beach day… but we shouldn't compromise our skin health when a good blush can deliver the same effects. Our Loose Blush Powder is a highly pigmented, long-lasting, powder that is designed to naturally accentuate cheekbones. Available in four shades, we'll take you from beach day to summer night. 
6.0 Lip Gloss
From Barbie Core to the 'Red' trend that is flooding Spring 2024 runways, our highly pigmented, non-sticky lip gloss offers a stunning creamy, shine. Get runway-ready with 9 shades to choose from.

Embrace the beauty and warmth of Summer, and give your routine a seasonal upgrade and shop your soon-to-be summer favourites online now.
Stay up to date with Lust Minerals - HERE