5 Habits You Can Use to Create a Cleaner Lifestyle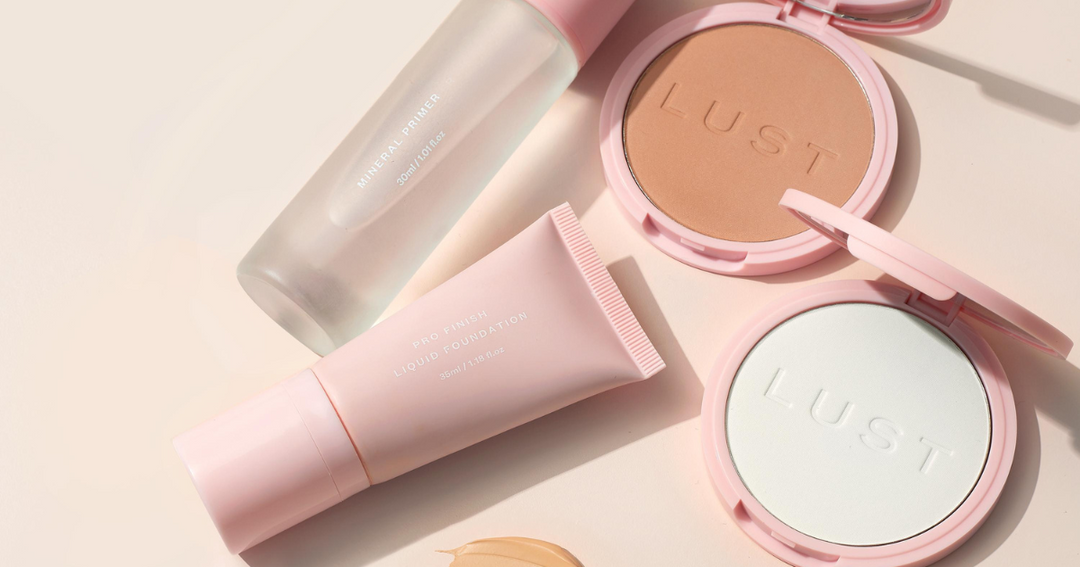 At Lust Minerals, we're passionate about empowering you to make informed choices for a healthier lifestyle. We believe clean Bbauty is a lifestyle that seamlessly combines makeup, skincare, and daily routines.⁠ Join us in embracing these 5 #HealthyHabits that will empower you to look and feel your absolute best, because your well-being is at the heart of everything we do. 💄
Healthy Habit One: Embrace Natural Body Products
What you put on your body is just as significant as what you put in your body. Your skin is the largest organ of your body and since it is porous, it absorbs whatever you put on it. As we use deodorant daily and apply fake tan all over our bodies, it is so important that we use clean products that are free from harsh, toxic chemicals.
Make the switch to natural body products that use clean and natural ingredients to nourish and pamper your skin. These alternatives are not only free from harmful chemicals but also kinder to your skin, especially for those sensitive skin girlies. Embracing natural body products is a simple yet significant step towards a cleaner lifestyle.
Lust Minerals Recommendation: Clean Self-Tanning Mousse, and Stick Natural Deodorant. 
Healthy Habit Two: Prioritise Clean Beauty Makeup & Skincare Products
An essential component of clean living is within your makeup and skincare products. Search for products that are free from harmful chemicals, toxins, and synthetic fragrances. At Lust Minerals, our mission is to provide women and men with an alternative to synthetic and harmful chemical-based beauty products, without sacrificing performance - we know you still want that long-lasting coverage, and we pride ourselves on providing that without jeopardising the health of your skin.  
Lust Minerals Recommendation: Makeup and Skincare Range
Discover the products tailored to your unique skin type through our online skin consultation with our specialists. You'll receive your personalised clean skincare and makeup routine directly to your inbox.
Healthy Habit Three: Nourishing Your Body with Mindful Eating
Clean living is about more than just what you put on your skin; it's also about what you put in your body. Make a healthy habit of choosing whole, natural, and unprocessed foods. Embrace the vibrant colours of fresh fruits, and vegetables, the goodness of lean proteins, and whole grains. Avoid those overly processed, sugary, and artificially flavoured items (where possible, it's all about balance right?), and your body will thank you with a happy, healthy glow from the inside out. 🌱🍏🥕
Lust Minerals Recommendation: Vegan Beauty Crystals Watermelon - a beauty supplement that combines powerful super fruits, superfoods and vitamins that are specifically formulated for an overall health boost.
Healthy Habit Five: Cleaner Environmental Living
Living cleanly isn't just about product choices; it's about cultivating eco-conscious habits in your daily life. To support our community in making a cleaner lifestyle, get involved in Lust Minerals' sustainability efforts by sending back your empty beauty containers to be recycled using our TerraCycle® Zero Waste Box™ and supporting our reforestation efforts. Every purchase contributes to planting 330 trees per month through the "One Tree Planted" initiative, helping offset our carbon footprint. These practices, aligned with Lust Minerals' commitment to sustainability, empower you to lead a cleaner, greener lifestyle and actively participate in our eco-friendly initiatives. 🌍🌱💄✨ Read more here
Your journey to a cleaner, healthier lifestyle with Lust Minerals has been all about making informed choices without compromising your well-being. Clean Beauty is more than just products; it's a way of life that seamlessly merges beauty and health. Join us on this transformative journey